Demoday X-UP Promo#14: Key network meeting of the École Polytechnique incubator
14 start-ups from the École polytechnique incubator, the Drahi-X Novation Center, and its entire team were welcomed on November 15 in the Innovation Defense Lab for the X-UP Demoday of Promo#14! We would like to thank Antoine Tesquier Tedeschi, head of the Detection and Capture unit, and his team for their hospitality ! Each of the founders presented their technology and project to different financial actors and potential partners.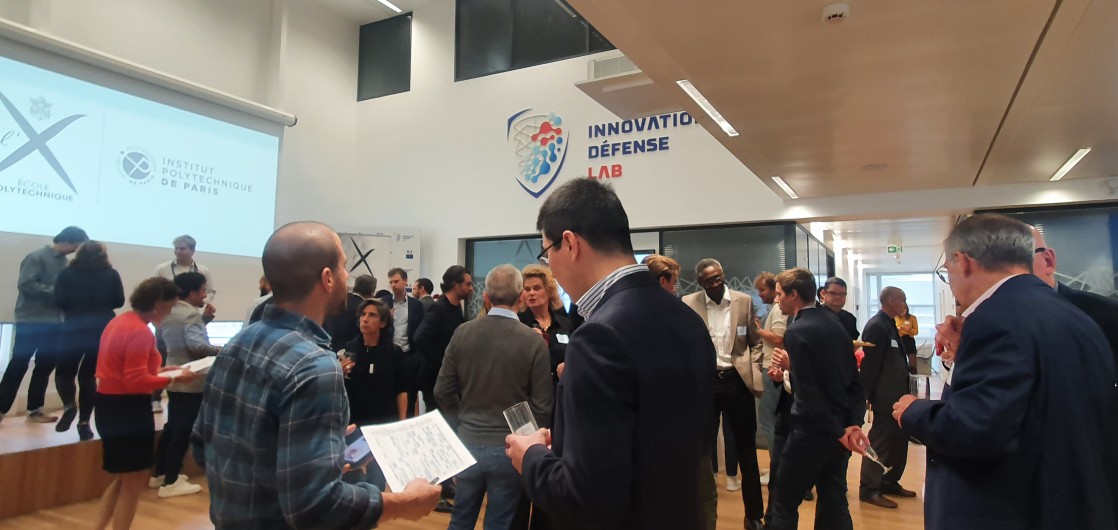 Event that closes the support program for the class of 14 that began last March, the X-UP Promo 14 Demoday is the culmination of 8 months of intense work with a team of over 200 experts and mentors from the school's ecosystem and beyond the Institut Polytechnique de Paris.
14 innovative start-ups from the X-UP and X-TECH programs of the Entrepreneurship and Innovation Center at X participated; 9 of them followed the X-UP program for start-ups in the creation phase and 5 others, more mature, are currently being accelerated in the X-TECH incubator for developing start-ups.
A new meeting, a new format
These 14 start-ups had the opportunity to pitch in front of a panel of business angels, VC's, investment funds and potential partners.
The program included more than a hundred personalized one-to-one meetings between investors / start-ups and an evening dedicated to « networking and conviviality » between start-ups, experts, mentors and partners gathered around a cocktail.
All of these start-ups have a strong technological dimension and are present in a wide variety of sectors: mobility, transport, energy transition, industry 4.0, medtech and biotech, greentech, fintech, AI, and sports technology.
"Innovation, in its entrepreneurial form, is particularly in the spotlight today" as Bruno Cattan, Director of Entrepreneurship and Innovation at the École polytechnique, who opened the event, testified.
The third pillar of the École Polytechnique, along with training and research, is innovation for entrepreneurship, which is embodied in the Drahi-X Novation; a true place open to start-ups, students, researchers and companies on the Paris-Saclay plateau, all of whom have technological projects and the desire to create a company.
2022 will be a time of consolidation for the center, as Bruno Cattan explains;
"With a growing community of start-ups, a successful X-UP program lasting 8 months, the development of partnerships such as with the French Tech Paris - Saclay, the French tech Tremplin, and great technological awards such as the i-Lab 2022 competition won by two of our incubated start-ups, the Drahi X-Novation Center confirms its dynamism in the landscape of key players in the incubation of Deeptech projects on the Saclay plateau.
Projections for 2023

Similarly, its ambitious determination for 2023 is reflected in "the upcoming implementation of new support programs upstream and downstream of the central support
X-UP; a pre-incubation program open to the whole of IP Paris on the one hand, and support offers to enrich our X-TECH incubator".
A DEMODAY on the scale of the Institut Polytechnique de Paris is taking shape more precisely by 2023; it will thus be in line with the shared medium-term objectives of its 5 engineering schools and 3 incubators, which are to develop, together, its footprint and its impact in the fields of innovation & entrepreneurship, to encourage the emergence of student technology startups, to stimulate the creation of deeptech startups from laboratories and to strengthen the ecosystems of each.

Find all our participating startups !

Atmosgear | #MICROMOBILITY #SPORT #HARDWARE  
Founder: Mohamed Soliman
Thanks to Micromobility, getting around the city has never been easier. However an alternative has still not been electrified despite 50 million users worldwide: the Roller.

Carmentis | #PAIEMENTS #CRYPTO #FINTECH |
Co-founders: Julien Braun, Arnauld Chevallier, Christian Desert
Carmentis is an algorithmic trusted third party that allows fintechs, banks and financial institutions to automate their contracts.

EpiLAB | #MEDTECH #POINTOFCARE #TUBERCULOSIS
Co-founders: Maurice Lubetzki, Clément Dubois
Tuberculosis is the leading cause of infectious death in the world: in 2020, according to the WHO, 10 million people have contracted tuberculosis and 80% of tuberculosis cases are in developing countries. An estimated 4.2 million of these cases are undetected. Epilab designs a portable, easy-to-use, reliable and rapid TB diagnostic test.

Faure | #IOT #DATA #HARDWARE
Founder : Nicolas Faure
Cabs are still not connected to the Internet. Yet they represent a manna of untapped data.
Gamma Pulse | #HEALTHCARE #DECONTAMINATIONAIR #DEEPTECH
Founder : Carmen Dumitrescu
The KillViDTM technology, totally new and disruptive, allows the instantaneous and continuous destruction of the viral load contained in all types of public or private spaces (hospitals, schools, housing, offices, industrial or agri-food environments, vehicles, etc.), regardless of the size of the viruses and the number of people present. Two patents filed.

Floware | #MOBILITY #INTELLIGENT SENSOR #DECARBONATION
Co-founders: Julien Garbiso, Mathieu Lafarge, Shabbir Ali
Floware develops an innovative solution for analyzing mobility flows on a large scale, intended for the major private and public players in the manufacture of cities and territories.

Geotref Impulse | #GEOTHERMIE #TRANSITIONENERGETIQUE #ENR
Co-founders: Michel Garcia, Alain Rabaute, Alfazazi Dourfaye, Sylvain Sarda
Geotref Impulse is a high value-added geoscience technology company for the identification and reliable evaluation of deep geothermal resources and their sustainable exploitation.

Icare | #HEALTH #AFRICA
Co-founders: Lauriane Le Four, Khadidiatou Nakoulima, Alioune Nakoulima
Icare is a patient pathway coordination platform with health advisors at your fingertips for emerging and developing countries. It is the missing brick in disorganized health ecosystems.

InSpek | #CAPTERS #PUCKS #INDUSTRY4.0
Founder: Jérôme Michon
InSpek's goal is to reduce costs and delays due to errors in chemical and biological processes through better chemical detection.
Founder: Feng Yang
After working for more than eight years in the geophysics sector, Feng YANG co-founded invisensing.io with the objective of providing high precision remote sensing solutions to the oil, gas and rail industries.
Founders: Laurent Dabrowski, Claire Dabrowski, Alexis de Pompignan
80% of the users of rechargeable vehicles only plug in their battery-powered cars when they are almost empty. The power required from the grid and the energy costs are then difficult to manage. In addition, each car must have a specific charging point, which leads to significant infrastructure costs.
Mandarine Robotique develops Murray, an autonomous robot for optimal charging of battery-powered vehicles.
Founders: Yama Saraj, Ilyes Talbi, Florian Günther
SensAI technologies wants to solve the mental problems linked to the malaise of employees. We believe in the practice of boxing combined with artificial intelligence as a solution to fight burn-out, stress and help employees to be more productive.

Sollys : #SOLAR #DECARBONATION #ENERGETICTRANSITION
Founders: Pierre - Louis Lee, Rodolphe Mawonou, Antony Di Rosa, Olivier Conrad
Concentrated solar power, an efficient way to decarbonize our heat usage. Sollys' ambition is to design, finance, build and operate concentrated solar power plants.

Oudja : #MEDTECH #CAPTERS #SIGNES VITAUX
Founder : Jean - Marc André
Medtech which develops a system for health professionals for the non-contact and rapid collection of vital signs for evaluation and pre-diagnosis.

Learn more about our start-ups DEMODAY Promo 14 : Here
Next X-UP Promo #16 in April 2023! Apply : Here
Back