14 Polytechnique start-ups innovating for the future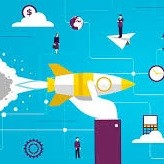 Faced with the consequences of the Covid-19 pandemic, the French start-up ecosystem has been deprived of its two big spring events: the Paris Saclay SPRING 2020 that was to be hosted by Telecom Paris, a partner of École Polytechnique within the Institut Polytechnique de Paris, and Vivatech. Challenges magazine nevertheless published its ranking of the 100 start-ups to invest in for 2020. Fourteen young companies from the Polytechnique community, founded by former students of the school and/or incubated within our Innovation Centre, are among them. You will find below a presentation of each of them.
Thrustme: Next-generation satellite thrusters
Founded in 2017 by Ane Aanesland, Director of Research at CNRS, and Dmytro Rafalskyi, researcher at the Laboratory of Plasma Physics (LLP X-CNRs), ThrustMe designs miniature thrust systems for small-sized satellites (nano- to mini-satellites). Their engines/thrusters are used to control the satellites in orbit, change their orbit, manage a drag compensation system, avoid collisions, move them into a constellation, etc. These small satellites often operate in constellations and provide tools to monitor our planet in real time. They are used to monitor human activity in economic and financial terms, as well as in terms of environmental impact. Analyzing this data then allows us to have the information needed to be proactive, and not just react. The space industry plans on launching more than 10,000 of these new satellites over the course of the next decade. ThrustMe is here to provide these satellites with the propulsion capacities they need for this industry to be sustainable, both economically and environmentally. In 2019, Thrustme was the first to launch a satellite propelled by iodine!
Néolithe: Fossilizing household waste
Founded in 2019 by Nicolas Cruaud (class of 2016), his father William Cruaud, a specialist in innovative concrete, and Clément Benassy, Néolithe is developing technology to transform non-recyclable household waste such as cloth, plastic and food waste into mineral granules that can be used in construction for road and concrete sub-layers. Naturally environmentally friendly, this patented process relies on fossilizing waste, avoiding incineration or the landfill. Néolithe expects to install its first Fossilizer, a processing facility in containers, by early 2021.(Winner of the prize Jean-Louis Gerondeau-Safran 2019)
Inbolt: Digitizing industrial tools
The start-up created in mid-2019 by Rudy Cohen, Albane Dersy and Louis Dumas, students of the X-HEC Entrepreneurs Master's Program, is developing a technology to track the position of industrial tools such as torque wrenches, screwdrivers and drills. InBolt's technology relies on a hardware module made up of sensors that, once fixed on the tool, communicate with quality control software to create an interface for the operator and an interface for the manager. By tracking the tool's position in real time, it is possible to confirm if a task has been completed correctly or not. Inbolt developed its first prototypes in the Drahi-X-Novation Center and has attracted interest from manufacturing groups like Safran, SKF and Faurecia. (Winner of the prize Jean-Louis Gerondeau-Safran 2019)
AiVision Artificial intelligence in support of teleophthalmology
Supported by the X-Tech business incubator at École Polytechnique, AiVision offers a telemedicine solution to screen for diabetic retinopathy, glaucoma and AMD using an artificial intelligence-assisted diagnosis. Created in 2017 by Arnaud Lambert, who has 25 years of experience in healthcare programs, particularly at the head of Sophie, a service launched by the French national health insurance to support people with chronic illnesses, and Timothée Faucon, a doctor in Mathematical Morphology, who has ten years of research into dilated fundus examinations, the start-up was incubated at Ecole Polytechnique. It was then the first start-up to be supported by the Fondation Adolphe de Rothschild Hospital.
Altevax: Synthesizing melanin to boost the immune system
Altevax has developed an immunotherapy treatment based on a patent filed by Professor Antoine Carpentier of the Saint-Louis Hospital (Paris) on the power of melanin to boost the efficacy of peptides and trigger a strong immune response from cytotoxic T cells. In late 2016, Antoine Carpentier joined forces with Victor Vadaneaux (class of 83), a fellow specialist in biotechnology and business management, to found Altevax. The start-up tested its vaccine therapy on animal models and successfully synthesized the production of melanin, which occurs naturally in humans, and scaled up the manufacturing. As its immunological technology applies to cancers and infectious diseases, Altevax is preparing for the first stage of clinical trials, focusing on the treatment of glioblastomas, the most frequent malignant brain tumors in adults, as well as Covid-19.
Spinofrin: Submicron particles to boost the reactivity or solubility of a material
Founded in February 2018 by Pierre Le Blainvaux (class of 2006) and researcher Denis Spitzer, this young company uses a technology created in the Nanomaterials laboratory for the systems under extreme strain at the French-German Research Institute of Saint Louis (Alsace). It is used to industrially produce pure or coated submicron particles that increase a material's active surface area, increasing its reactivity, solubility or stability, which are major challenges for the pharmaceutical, cosmetics and food industries. Spinofrin's target is to create a production site within two years.
Ubique: Video games to help rehabilitation and physical therapy
The Ubique start-up, which offers a comprehensive gamification platform for rehabilitation and physical therapy, was part of the 7th class of the School's X-Up incubator. Founded in September 2019, the Ubique Kids kit is sold via a subscription, with access to 14 fun learning programs for the rehabilitation of kids with motor or cerebral handicaps. Founded by Ali Azadi (class of 2005) and Hassan Lahlou, Ubique is preparing a kit for seniors for summer 2020.
UV Boosting: UV rays to stimulate plants' immune systems and replace pesticides
Yves Matton (class of 2006), who spent two years researching materials at MIT and was behind several start-ups, created UV Boosting based on a discovery by two researchers from the University of Avignon, Laurent Urban and Jawad Aarrouf. UV Boosting designs equipment to stimulate natural plant defenses through flashes of UV rays to reduce the need for fungicides. Plants all have defense mechanisms that allow them to respond to the various bio-aggressors to which they may be exposed (fungi, bacteria, viruses, pests, etc.). The stimulation of natural defenses consists in activating or enhancing the plant's ability to defend itself. The process protects vines from the dangers of mildew and other fungi. Trials at the producers' premises have confirmed a reduction of 50 to 75% in the use of phytosanitary products for vines and strawberries.
Harold Waste : Optimizing your recycling margin
Founded in 2018 by Réda Boumahdi (Master in Machine Learning at Polytechnique 2013-2016) and Arnaud Boucheron, the start-up develops digital assistants to help companies optimize their waste management. It relies on artificial intelligence to identify and qualify the flows of plastics, metals and cardboard and calculate the cost of raw materials, transport and logistics, expenses in the various recycling processes, and customs duties. The software developed by Harold Waste is designed to interface and blend in with the customer's information system. The circular economy no longer produces waste; it reuses existing material to make new products. The concept is gaining ground, driven by regulation, cost issues and the increasing scarcity of certain resources.
Neofarm: Intensive micro-vegetable gardening to encourage short circuits
NeoFarm's model is based on the local production of organic fruit and vegetables on farms located on small surfaces close to cities, allowing for short distribution circuits. Co-founded in 2018 by Olivier Le Blainvaux (class of 2006) and Alexia Rey, the start-up will grow tomatoes, zucchini, leeks, carrots and spinach for a population of 1,300 people on a cultivated area of one hectare farmed by five people using a computer-controlled gantry-mounted robot. It optimizes growing time and space by putting several varieties on the same bed, which naturally limits the use of fertilizers or pesticides. For several months now, Neo-Farm has been operating a one-hectare pilot site in the town of Saint-Nom-la-Bretèche west of Paris. To distribute its products, NeoFarm relies on actors such as La Ruche qui dit Oui or La Vie Claire, with whom it already works.
iNex Circular : AI to serve the circular economy
iNex Circular is a platform to identify and qualify waste for recyclers and manufacturers in a given area to create local recovery channels. It is based on actual data from more than 2,000 open data companies and several hundred companies surveyed during their projects to obtain qualified information on waste and raw materials. This start-up created in 2017 by Olivier Gambari (Télécom Paris) and Pierre Beuret was part of the eighth class of X-Up. It is already working with major energy companies and public service specialists such as Veolia, Engie, GRDF and Total. It plans to triple its turnover this year to €750,000.
LGO : The French cryptocurrency exchange platform
Led by Hugo Renaudin, (class of 2013), one of its founders alongside Frédéric Montagnon, former chairman of the blog hosting platform Overblog, LGO is a platform for trading digital assets without counterparty risk, initially reserved for institutional investors. In the crowded and sometimes risky trading platform market, the startup offers security and transparency to institutions through advanced technology, the use of blockchain and a guaranteed separation of funds between the platform and the client. It also guarantees the transparency of transactions thanks to these innovations and the blockchain. Created in 2017, LGO has executed the equivalent of €800 million worth of transactions since its trading platform was launched in March 2019. It is compensated through transaction fees that vary from 0 to 2% depending on its clients' volumes and type of transactions. In 2018, the start-up completed a noteworthy ICO, raising funds of 3,600 bitcoins, or 20 million dollars, not all of which was converted.
YEELD: Automated savings using your debit card 
Co-founded in February 2018 by Romain Pechayre (Master class of 2018) and Nagib Beydoun, YEELD has developed a free mobile savings account application launched in 2019 that makes saving automatic, painless and fun. The two start-up founders used research into behavioral economics to create their application that offers four main features. With its rounding technique, YEELD rounds each expenditure by debit card or direct debit up to the next euro, and those few cents are automatically credited to the savings account. The rule of 52 for the 52 weeks of the year transfers one euro each week, incrementing by one euro each week up until the 52nd week, for a total amount saved of nearly €1,400. The 'save and forget' option allows the user to set an amount to be transferred from their checking account to the YEELD savings account. A new savings rule was just added called 'heads or tails' that allows you to bet on the news with savings between €3 and €20 if you're wrong. One year after launch, the app counts 80,000 users, for a break-even point of 200,000 customers.
NoArtist or IArt for all
Founded in 2018, NoArtist is a collective of three Polytechnique engineers who create works using artificial intelligence algorithms and implement them on different media. Created by Priscille Boissonnet, Charlotte Caucheteux and Benoît Audigier, NoArtist uses mathematics and computer science to generate original artistic creations by drawing inspiration from thousands of existing works, questioning the status of both art and artist and raising awareness of AI issues. Profitable from the start thanks to very low structural costs, the start-up is open to everyone, individuals or companies, with works for sale on the website from €150.
Back