2001, A New Space Odyssey and entrepreneurship at l'X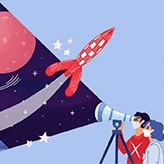 The European Commission, under the impetus of the European Commissioner for the Internal Market, Thierry Breton, has identified space entrepreneurship as a major axis for the future of Europe and created a €1 billion fund dedicated to start-ups and innovation in this field.
French president Emmanuel Macron has announced that the space industry will benefit from a 500 millions euro budget as part of the France Relaunch Plan.
"The space industry has been a French industry of excellence for decades, it is an industry on which we have built technologies, know-how and world excellence," said Emmanuel Macron on January 12th. "It's a sector in which we have growing competition (...) and we need to get organized," he added.
X's entrepreneurial ecosystem has fostered the development of several start-ups in the space business, notably:
*ThrustMe : Founded in 2017 by Ane Aanesland, Director of Research at CNRS, and Dmytro Rafalskyi, researcher at the Laboratory of Plasma Physics (LLP X-CNRs), ThrustMe designs miniature thrust systems for small-sized satellites (nano- to mini-satellites). Their engines/thrusters are used to control the satellites in orbit, change their orbit, manage a drag compensation system, avoid collisions, move them into a constellation, etc. These small satellites often operate in constellations and provide tools to monitor our planet in real time. They are used to monitor human activity in economic and financial terms, as well as in terms of environmental impact. Analyzing this data then allows us to have the information needed to be proactive, and not just react. The space industry plans on launching more than 10,000 of these new satellites over the course of the next decade. ThrustMe is here to provide these satellites with the propulsion capacities they need for this industry to be sustainable, both economically and environmentally. In 2019, Thrustme was the first to launch a satellite propelled by iodine! In October 2020, ThrustMe has been awarded a contract from the European Space Agency to demonstrate the world's first iodine electric propulsion system in space.
*Exotrail : Led and co-founded in 2017 by David Henri (X13), Exotrail is developing a propulsion system for nanosatellites. This technology allows constellations of small satellites to move in space and thus access new orbits previously inaccessible and improve their performance. In 2020, Eutelsat has chosen Exotrail's solutions to equip two of its satellites ELO 3 and ELO 4 (satellite transmission of television and radio channels). During the same year, Exotrail announced the marketing of its first software, ExoOPS Mission Design, enabling mission design and optimization for satellite and constellation and raised an additional 11 millions euros to finance its growth, notably from the Karista and Innovacom funds.
*ShareMy Space: Co-founded in 2016 by Romain Lucken (X16 and PhD in plasma physics), ShareMy Space is the European leader in in-orbit navigation safety and space surveillance. The company provides collision warning and maneuver recommendations to satellite operators and space agencies.
Read more :
2021, A New Space Odyssey - Chronology
Back