23 Ecole Polytechnique alumni among the economic leaders of tomorrow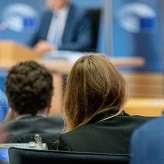 Credit : European Union 2019
Every year, the Institut Choiseul identifies and ranks young leaders under 40 who play a major economic role in France and abroad. Among the selections unveiled, a Top 100 and a complementary list of 100 profiles, 23 alumni of the Ecole Polytechnique earn their spot.
10 graduates in the Choiseul 100
In the first 100 profiles, 10 alumni of Ecole Polytechnique are identified for their current and future contribution to the economy, including 4 female graduates: Anne-Laure de Chammard, Director of Strategy at Engie (18th), Maud Thuaudet, Director of Strategy at Saint Gobain (56th), Mélanie Jourdain, Director of EMEA Fluorinated Gases at Arkéma (90th) and Diane Abrahams, Director of Strategy, Transversal Partnerships and Innovation at Group La Poste (91st).
Also present in the Top 100 : Jean-Baptiste Bouzige, CEO of Ekimetrics (9th), Pierre-Edouard Batard, CEO of the Confédération nationale du crédit mutuel (24th), Geoffroy Bouquot, Director of Strategy and External Relations of Group Valeo (26th), Benjamin Frémaux, CEO of Idex (35th), Stéphane Zeghbib, Director of Zaoui & Co (37th) and Eric Schaeffer, Managing Director of Eurazeo Capital (45th).
13 alumni in the top 200
In the complementary list of 100 profiles, 13 other Ecole Polytechnique graduates are highlighted.
Among the 23 alumni of the selection, 12 are from the french Grands Corps de l'Etat: six from the Corps des Mines and six from the Corps des Ponts. Two alumni from the additional list now work for the Fraench administration : Charles-Henri Weymuller, Macroeconomic and Commercial Policy Advisor to the President of the Republic and Vincent Le Biez, Director of Investments in charge of Industry at the Franch State Investments Agency.
Back