COVID - 19 : École polytechnique fully geared for the new lockdown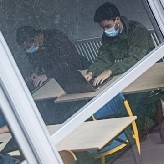 During his speech on October 28th, the President of the French Republic has announced new measures in fighting the second wave of the COVID-19 pandemic among which a new lockdown which will last at least unitel December 1rst. The new measures have direct consequences for the day to day operations of universities and  higher education institutions.
After a successful start of the new academic year and an effective reinforcement of sanitary measures to cope with the second wave of the COVID-19 pandemic, Écol polytechnique will be able to draw from the lessons pf the first lockdown period to face this second wave in the best possible way.
The goal remains, primarily, to protect the health of all, to take part in the national collective effort and continue the School activities. The campus will therefore remain open under an appropriate operating mode. The on-site health protocol remains unchanged, and it particularly underlines that wearing a mask is mandatory, as well as respecting social distancing measures.
The detailed organization for this new lockdown period is as follows:
For teaching and student activities:
Lectures and tutorials will take place entirely online. Some practical work or research activities may take place in person, in a format that will decided case -by-case.
Ranking examinations of the engineering cycle will take place physically the week of November 16 for X2019 and on November 27 for X2018. The bachelor's mid-term exams will take place physically during the week of November 23. The other 2020 exams for all training cycles - bachelors, engineers, MSc&T, Masters at X - will take place in December according to a format and a schedule to be specified later. An ad hoc health protocol will be set up and students will have to make arrangements to meet these academic obligations.
Student activities, associations and sports activities are suspended and face-to-face events must be postponed, or organized online.
Social venues will be closed and gatherings prohibited on campus.
The library will offer a "click & collect" service under terms and conditions that will be specified on its website.
Medical follow-up, as well as psychological support, remain available on campus.
For research and administrative activities:
When an activity allows it, full-time remote work becomes the norm and should be implemented.
The laboratories will be able to maintain on-site activities while respecting safety measures, particularly in the context of experiments and manipulations.
The catering service will reopen on Monday but November 2 and will only offer a take-out offer.
This new phase of lockdown will benefit from the lessons learned from the spring experience and the mobilization of the entire Polytechnique community that has taken place since the beginning of this pandemic.
Back