École Polytechnique: Female alumni portraits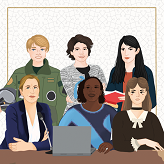 To celebrate International Women's Day 2020, École Polytechnique honored distinguished female alumni from March 2nd to March 8th. Scientists, CEOs, servicewomen, artists, they illustrate the variety of careers pursued by polytechnicians.
Sophie Germain
Sophie Germain revolutionized science as we know it with her number theory, which bears her name (Sophie Germain prime), and her work on the elasticity of bodies. Her connection with Ecole Polytechnique? She was its first female student, in 1794, when the school was then reserved only for men. To attend classes, she borrowed the identity of a male student, Antoine Auguste Le Blanc. It was under this name that she submitted her notes to Joseph Louis Lagrange, professor at the school, who in turn became her friend and mentor. It was also under this name that she began her work, which has remained famous over time, with Carl Friedrich Gauss on the number theory.
Christel Heydemann
Graduate of Polytechnique (Class X94) and Ecole des Ponts et Chaussées, Christel Heydemann joined the French telecommunications group Alcatel in the late 1990s, on the eve of its merger with the American company, Lucent. After 15 years working for this group, she joins Schneider Electric to accelerate the launch of Internet of Things solutions. Christel Heydemann took over as President of Schneider Electric France in April 2017, and then that of Gimelec, the French electronic industry group, in May 2019.
Fabienne Keller
Following her studies at École Polytechnique and at the Paris Institute of Technology for Life, Food and Environmental Sciences, Fabienne Keller's career turns towards French administration work in the mid-80s at the Ministry of Agriculture and then the Treasury Branch. Then, returning back to Alsace, her home region, she was the first woman to enter the Departmental Council of the Bas-Rhin in 1992. Successively Vice-President of the Alsace Regional Council, Mayor of Strasbourg, and Senator of the Bas-Rhin department, Fabienne Keller is now member of the European Parliament within the Renaissance group, Vice-President of the Agir political party and Reserve Lieutenant Commander of the French Marine nationale.
Rose Dieng-Kuntz
Rose Dieng-Kuntz was the first African woman (Senegalese) to study at Ecole Polytechnique in 1976, four years after entrance exams were opened to women. She is one of the pioneers of artificial intelligence and web semantics. Computer scientist and Research Director at Inria, her work revolved around knowledge databases and she is at the origin of the first intelligent algorithms created for acquiring and searching data on the web. Rewarded for her research and impressive scientific career, Rose Dieng-Kuntz received the Joliot-Curie Prize in 2005, three years before she passed away, at the age of 52.
Isabelle Sorente
Polytechnician and pilot, Isabelle Sorente turned to writing early on, in parallel to her management position at the French "Aviation Civile". After exploring general flying, aerobatic flying, and theater (both acting and play writing), she published the first of her eight novels in 2001, called "L", in which she discusses the topic of addiction. Isabelle Sorente is co-founder of the review "Ravages", Blast Magazine, and participates in the French radio show "Par Jupiter!" on France Inter. Her latest novel, titled "Le complexe de la sorcière" (translates to "The Witch Complex"), was published in early January 2020.
Caroline Aigle
Caroline Aigle began her military career after graduating from École Polytechnique in 1994. She was the first female licensed fighter pilot assigned to a French Air Force combat squadron in 1999. A triathlon military champion both in France and worldwide and Commander of the French Air Force, her career was headed for the Aerospace domain and she was about to be selected by the European Space Agency, when she passed away in 2007, at the age of 32. At that time, Caroline Aigle had a total flight time of nearly 1,600 hours, mostly on Mirage 2000-5.
Back