Innovation in Covid-19 times: Codi, the new work from home alternative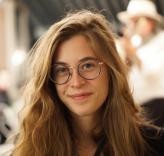 Christelle Rohaut, alumni of the Ingénieur Polytechnicien Program, says the innovation competitions she participated in while studying at l'X were a truly eye-opening experience towards her entrepreneurial career. It allowed her to pursue a Master's in City Planning at UC Berkeley in 2018 and to create Codi that earned her the honour of being selected in the 2021 Forbes 30 Under 30 list.
Created in 2018, Codi is a home office-sharing company that lets users lend rooms in their home for others to work from (www.codi.com). A thought pitch amid the global pandemic where we have seen activities of giants such as Airbnb and WeWork called into question. Codi nevertheless believes it can adapt into a hybrid model between home and office while implementing special Covid-19 measures. Unlike WeWork, Codi is not restricted to big cities but aims to create small local hubs in people's neighbourhood.
1) Congratulations on your inclusion in the 2021 Forbes 30 Under 30 list. According to you what are the key factors linked to this nomination? 
Thank you! Being part of the Forbes 30 Under 30 list is definitely a big milestone both for my company and for me personally. They received tens of thousands of nominations this year and I'm humbled by the recognition and to join this impactful community of young innovators. 
What influenced the outcome is probably that our company's growth accelerated with COVID-19 as we just made a leap of about 10 years in the future regarding remote work. We have also just announced new funding, a recent expansion to NYC and our first significant enterprise partnerships. 
2) How the idea of Codi was born and what are the main objectives of your start-up?
Back in 2018, during my Master's in City Planning at UC Berkeley, I struggled with the isolation of working from home as coworking spaces were too far, so I decided to try working from friends' homes. I found myself more productive and happier overall. I realised we're surrounded by underutilised private homes that could become thriving local coworking hubs serving remote professionals.
Today more than 50% of people in the US work from home, 99% do not live within 5 km of a coworking or office space, and many do not have the appropriate conditions at home to be productive and balanced. I created Codi to make their lives better, help them establish a clear line between work and home life. But our mission goes far beyond just providing a workspace - Codi revitalises residential neighbourhoods by developing strong circular economies and reduces our carbon footprint by sparking the walk-to-work movement. 
3) Innovation is one of the main missions of l'X, how did your education/experience at l'X helped you in the conduct of your entrepreneurial project? 
At l'X, I was studying environmental sciences and taking urban planning classes on the side. I signed up with a few other classmates for student innovation contests. The competitions were truly eye-opening experiences. I realised how much I enjoyed solving urban challenges - and I guess pitching solutions! That's what brought me to do my 4A at UC Berkeley in City Planning, and then to create Codi.
4) What are your short, mid and long terms objectives for Codi? How did you adapt to the Covid-19 pandemic?
Our vision is to allow any employee around the globe to walk to work. We're a mission-driven company. Overall, our goal is to enable people to lead happier, more fulfilled lives. A couple years from now, I see Codi as the first choice for remote companies and the reason for the revitalisation of our local communities. We have estimated that Codi can boost local economies, cut two tonnes of carbon emissions per employee per year and help Codi hosts afford the homes they love. 
Covid-19 has changed the way we work, forever. We have made a leap of 5-10 years in the future. Remote work is exploding as 50% of US workers currently work from home and 72% of those people want to stay in a hybrid model. But many people find working from home a challenge due to a shortage of space, roommates, partners, children, and lack of work/life separation. 
Covid-19 accelerated our growth with companies. We saw a 29-fold increase in enterprise partnerships within a few months. With an increasing number of remote workers having lesser sense of belonging, companies have adopted Codi as the new way to work – offering neighbourhood workspaces that help them support, attract and retain top talent. 
We have just announced our expansion from San Francisco to New York City. Codi will continue to expand nationally to the other major cities in the US throughout 2021.
Back