L'X advances in the THE world's top 100 universities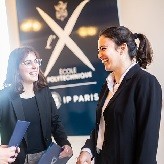 L'X ranks 87th in THE's ranking of the world's best universities, gaining six positions compared to the previous year. Times Higher Education revealed its ranking of the world's best 1,500+ best universities on Wednesday, September 2. École Polytechnique makes it to the top 100 and is positioned 87th in the overall ranking, on par with the University of Science and Technology of China and Sorbonne University. It is the 2nd French institution, behind Paris-Science-et-Lettres (46th).
This ranking is based on 13 indicators that assess the quality of teaching, research, citations (influence of research), international perspective and industry-related revenue (transfer of knowledge).
All in all, 41 French institutions are listed in the ranking, including Télécom Paris and Télécom SudParis  which along with École Polytechnique, Ensta, Ensae are founding members of Institut Polytechnique de Paris.
>Find all rankings of École Polytechnique
Back