MSc&T: Two-thirds of graduates get a job before graduation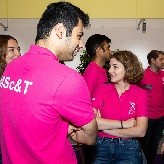 The second « First Job survey » of the École polytechnique's Master of Science and Technology (MSc&T) graduates highlights the strong appeal of the program with companies and shows that a growing number of them are recruited before the end of their studies. Nearly two-thirds of them did so (65% versus 60% in the previous survey).
Focusing on the class of 2019, graduating in 2020, the survey also shows that five months after graduation, the vast majority of MSc&T students (82%) work in a company. Among them, 9% are starting a PhD and 1% are engaged in further studies (outside PhD), 2% have created a start-up and 6% are engaged in a personal project, volunteering or job search.
The Master of Science and Technology program was launched in September 2016. It offers multidisciplinary scientific programs, entirely taught in English and focused on business.
Company employees : the call from consultancy
Among company employees, eighty-eight percent are recruited on permanent contracts. Half of them work for a company with more than 5,000 employees, mostly in France. In terms of sectors breakdown, industry attracts 58% of them (73% in the previous survey). A growing proportion of graduates also go into consultancy (29% against 9% previously), banking and insurance (9%) and the civil service (1%). Their average gross annual salary, including bonuses, is €55,000.
PhD focused on the corporate sector
The business-oriented specificity of the Master of Science and Technology program also reflects in the doctoral programs pursued by graduates. Sixty-three percent of them carry out their doctorate in connection with a company as part of a Cifre, a scheme encouraging partnership between academic and business worlds. Most of them prepare their PhD in applied fields such as computer science, artificial intelligence, renewable energies or smart grids, and 63% carry out additional assignements (education, consulting, innovation and intellectual property). Their global average annual gross income is €40,000.
Graduates and Entrepreneurship
2% of the class has created a business in the e-commerce and internet sectors.
Methodology :
Survey conducted among the second promotion of Master of Science and Technology, graduated in 2019 with a participation rate of over 76%.
Back