Restricted Access and Enforced Remote Working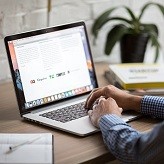 Working from home (working remotely) is an obligation for the school's staff, unless an explicit waiver of permission to be present on site has been granted by the department head. This applies only to staff crucial to the operational continuity of the school's essential activities.
Measures have been taken in order to enable administrative services to ensure the continuity of their tasks remotely. Staff are regularly informed of the situation and the measures put in place by the school's Executive Committee.
Online tools have been made available in order to allow as many people as possible to work remotely and management will also receive support in order to adapt to these new working conditions.
Back