Seven start-ups launched by X alumni distinguished by the 23rd i-Lab contest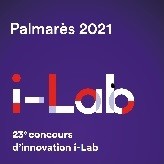 Seven start-ups created or managed by X alumni have been distinguished during the 23rd edition of the i-Lab contest. One of them, C12 Quantum Electronics, is among the 10 Grand Prizes awarded by the largest Deep Tech innovation contest in France.
Founded by Pierre (photo) and Mathieu Desjardins (both X 2008), C12 Quantum Electronics develops reliable quantum processors capable of solving problems beyond the reach of the most powerful supercomputers.  At C12 Quantum Electronics, a qubit, the fundamental functional brick of a quantum computer, is designed from an ultra-pure carbon nanotube, suspended above a silicon chip, the closest realization of a spin qubit in a vacuum. C12 Quantum Electronics' innovation reduces all disturbances and errors.
Three other X alumni start-ups and winners of the contest also belong to the digital, software and communication technologies category.
NavAlgo, launched in 2020 by Zuzanna Kosowska-Stamirowska (X Master Economics & Public Policy, 2011-2013) and supported as part of the X-Tech incubator for mature technology companies at the Ecole Polytechnique's Drahi-X Novation Center, has designed and commercializes an analytical engine, based on artificial intelligence, to structure and process data from moving things (trucks, ships, parcels, containers, etc.). The data collected - thanks to IoT sensors in particular - are then used to help logistics and supply chain companies achieve operational excellence, reduce costs and meet the challenges of digital and environmental transitions. The solution has already won over European leaders such as Germany's DB Schenker.
Co-founded in April 2019 by Matis Ringdal (X-Master of Sciences 2017) Pixacare develops a web-mobile based skin pathology monitoring platform. This software for health centers allows the detection of wound healing complications via artificial intelligence algorithms. In France, 3 millions post-operative wounds undergo complications every year, which represents a cost of 2 billions euros for the healthcare system. Pixacare enables the early detection of these complications by analyzing wounds from a smartphone photo. The solution, offered as a monthly license, is already deployed in 12 leading hospitals in France and treats over 1,000 new patients per month.
Agrid, co-founded in April 2019 by Jean-Pierre Voropaieff (X PhD in Solid Mechanics 2015-2018 ), develops software to automatically control electricity consumption in commercial and office buildings and at all stages of the electrical network to reduce or eliminate waste. The start-up based in Corsica enables professionals to reduce their buildings' electricity bills by 20% without loss of comfort, on a local scale. At the same time, Agrid offers electricity network operators flexibility tools to better exploit renewable energies.
Two other start-ups from the Polytechnic community winners of the i-Lab 2021 contrst are active in the biotech and medical technology sectors.
The Cilia project, led by Medetia, co-founded in January 2019 and headed by Jean-Philippe Annereau (X PhD 1995-1998), aims at discovering and developing new therapeutic molecules for the treatment of severe pediatric ciliopathies, currently incurable.  These new molecules are identified by an innovative process, using cellular models directly from patients. The restoration of the diseased cell phenotype is measured using state-of-the-art microscopic instrumentation, which allows the selection of new drug structures generated with the help of artificial intelligence algorithms. MEDETIA's recent advances have already enabled the preclinical development of a candidate molecule (MDT-110) for the chronic treatment of a serious kidney and eye disease affecting children, nephronophthisis.
Developed by the start-up It's Brain, created in May 2019 and headed by Guillaume Simon (X87), Mindpulse software provides a comprehensive and accurate overview of attentional and execution functions with 16 indicators thanks to its complex algorithms analyzing data captured during a 15-minute neurocognitive test. It relies on a new indicator, independent of execution speed, the Reaction to Difficulty, which reveals strategies and behavior in the course of the test. Three minutes after the end of the test, a visual summary of the balance of the fundamental decision making process is available to the clinician. It's Brain aims to make the MindPusle test accessible online, in several languages, to demonstrate its capabilities in characterizing important neurological pathologies such as depression, Covid-19, HIV... and to allow a richer and more accessible feedback to non-specialists by using artificial intelligence.
In the Materials, Mechanics and Industrial Processes category, the jury of the 23rd edition picked out the start-up Farwind Energy.
Co-founded and headed by Arnaud Poitou (X81), Farwind Energy is developing an energy ship, which is an autonomous sailing ship propelled by wind. The ship's kinetic energy is converted to electricity by hydrokinetic turbines attached to the hull. Offshore wind is a renewable energy source of exceptional quality and unlimited potential, but is completely untapped today due to the prohibitive costs of grid connection, installation, operation and maintenance at great distances from the shore. Farwind Energy is developing integrated solutions to convert offshore wind energy into stored energy. These solutions are based on a technology which is directly derived from the research work of the École Centrale de Nantes, where Arnaud Poitou was director from September 2012 to December 2019. He was also a lecturer at l'X from 1995 to 2006 in the mechanics department, where he taught fluid mechanics and solid mechanics.
Sponsored by the Ministry of Higher Education, Research and Innovation to support the creation of innovative companies, i-Lab has enabled the creation of 2,155 companies since its launch in 1999, 65% of which are still in business. Among them, 30 have been listed on the stock market.. Despite Covid-19 health crisis, the 2020 edition drew some 424 applications.
For the 2021 edition, the jury of experts has selected 69 winners, including 10 Grand Prizes, out of 399 applications.
This 23rd edition is characterized by a majority of winning projects from public research (63%), and by a predominance of the health and digital sectors (80% of winning projects).
Organized in partnership with Bpifrance Financement, i-Lab supports the best business creation projects with a strong technological component with significant financial assistance of up to 600,000 euros and adapted support. The 10 Grand Prizes, awarded to laureates who fall under one of the ten major societal challenges identified by i-Lab, also benefit from a sponsor to support them in the development of their project.
Back