A talk with Bruno Cattan, the new Director of Entrepreneurship and Innovation at École polytechnique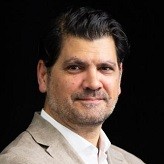 Bruno Cattan, X1993 and a 1998 graduate of Télécom Paris, has been appointed Director of Entrepreneurship and Innovation at the École Polytechnique from June 7.
He began his career in telecommunications and was involved in the early days of the mobile Internet, at Motorola, Nokia Networks, and then with the start-up Mobileway.
In 2005, he joined the Canal+ Group as New Technologies Manager. In 2009, he became Technical Director for the full digital switchover within the same group. He was then promoted to Technical & Digital Director and member of the Executive Committee of Canal+ International in 2011. In this position, he led the digital transformation of the TV operator's offer, services and infrastructures.
In 2016, Bruno Cattan joined the satellite operator Eutelsat as Director of New Applications, to support the development of value-added services.
Bruno Cattan is also a graduate of the Institut Multimédias and of the Executive Specialized Master's Degree Trajectoires Dirigeants at Science Po. He is Vice-President of the Telecom Paris Alumni Association.
Dixit: What is your roadmap as the new Director of Entrepreneurship and Innovation at l'X?
Bruno Cattan: My mission is to support entrepreneurship and innovation at l'X and to accelerate their development within the framework of the Institut Polytechnique de Paris. The First job surveys of students in the engineering cycle or MSc&T shows that only 3% of the former and 6% of the latter go after entrepreneurship during or at the end of their studies. There is certainly room for improvement, even though we know that our students are highly sought after by large companies and that the vast majority of them are recruited even before graduation.
With the Drahi-X Novation Center, we have a place at the school dedicated to entrepreneurship and innovation, and truly unique in the ecosystem. My mission is of course to manage the center, but also to define and manage the evolution of the support programs and facilities to best meet the needs of start-ups in the areas of interest to the Institut Polytechnique de Paris: Deeptech, AI, Biotech ... and of course Defense !
In addition to the Drahi-X Novation Center, entrepreneurship and innovation are one of the school's pillars, along with training and research. A major challenge is to strengthen the ties that have already been forged between these three areas in order to promote a culture of entrepreneurship and innovation within the school as a whole.
I am also very much focused on the networking of the incubators of the Institut Polytechnique de Paris, brought together under the common brand of the Novation Center.  This will involve cross-fertilization between our networks of partners, exchanges of best practices, and why not, in the long run, a form of specialization for IP Paris incubators. For instance, we could imagine that digital start-ups would be supported at the Telecom Paris Novation Center, while those in DeepTech, Defense, or Biotech would be better supported at the Drahi-X Novation Center, due to the closeness of laboratories in the same fields.
IP Paris is an opportunity for our incubators! The size effect, in terms of the number of start-ups incubated per year as well as the amount of funds raised, will strengthen their unique position in the FrenchTech ecosystem, as well as the power of our Novation Center brand and its visibility within the Paris-Saclay cluster and beyond.
The development of the IP Paris Innovation Park is also part of my roadmap. Supported by the EPA Paris-Saclay, this business, innovation and research park will foster closer ties between public research and private R&D. it will create a pool of employability for doctoral students and increase funding for projects and theses, and favor the development of an entrepreneurial ecosystem throughout IP Paris.
How will your backgroung help you to carry out these missions?
Bruno Cattan: Since the beginning of my career, I have always worked on innovation or transformation issues in environments where technological evolutions have gone very fast. Paradoxically, my experience with the Canal+ Group has been the most structuring in this field, even though it is a company where technology could only be perceived as a means to an end. 
When I arrived, I had to relaunch a technological innovation process at a time when the shift to new technologies was not considered as a strategic issue. To help us in this process, we set up an Advisory Board for Technology. The members of the Board - all recognized experts in innovation, technology, the digital economy, and futurology - told us: "you are missing out on something called the Internet". That was back in 2005, and considering the transformations that have occurred since then, it was a very long time ago... So we paused and thought things through. Should we design a new website? yes, of course. Should we develop customer relations and sales online ? Why not. Could we put small videos online to broadcast our trailers like on the brand new Youtube site? Let's give it a try. And if we were to go further? What if we had to dream a little? What if the Internet became a TV distribution platform tomorrow? It is on this last one that our Advisory Bord calls us to order: 'it is science fiction! Faced with this challenge, we set up an Internet television experiment in 2007. Without any communication to customers, 10,000 subscribers signed up in less than two weeks and the experience was a massive success! Very quickly the idea was taken seriously, and Canal+ launched its first Internet TV offers in 2008, with the ancestor of what has since become myCanal. Remember that Netflix had not yet arrived at the time!
Beyond the anecdote, this experience taught me that there can be a lot of conservatism, even among those in the know, and that when it comes to innovation, we must always dare and want to go beyond the framework in which our mental schemas lock us. What we expect from innovative entrepreneurs is that they come up with ideas that shake things up; and when they don't shake us up enough, we have to shake them up so that they go through with their idea. That's what happened to us!
Another experience, another lesson with the full digital switchover that I managed between 2009 and 2011. Analog TV users were not very technophile, even technophobic! Getting them to switch to DTT, with its decoder and second remote control, required a lot of teaching, convincing and support. What did I get out of it? You can have the best idea in the world, but if you don't know how to communicate, if you don't take time to explain, it won't work.
Finally, I accompanied the transformation of Canal+ internationally for five years: an experience with a very strong multicultural dimension, with very diverse local issues that required us to constantly de-center ourselves from the vision of the "metropolis. If I put this into perspective with regard to the challenges of promoting and supporting innovation, it means always trying to look at what is happening elsewhere. We must not hesitate to copy, even if it means adapting, what is done elsewhere if it is a good idea. Innovation is not necessarily invention. Innovation is sometimes just shifting the focus a little, stepping out of the box to bring additional value.
How do you see the links between research at l'X and within IP Paris and the promotion of entrepreneurship and innovation?
Bruno Cattan: Research and innovation can and should meet more often. One of the ways in which they can meet is through the development of partnership research and the promotion of transferable technologies: this is the role assigned to SR2PI within the School.
For our part, in the Entrepreneurship & Innovation Department, our objective is to strengthen the links between start-ups, the large companies "excubated" in the Drahi-X Novation Center, and the labs of l'X and the interdisciplinary research centers of IP Paris: it is therefore in close collaboration with the researchers and the development services that I intend to carry out my mission. In concrete terms, we will soon be welcoming the CIEDS teams to the Drahi-X Novation Center, as well as a new laboratory at the School for Biotech. We are also working with the chemistry department to set up a dedicated laboratory for startups.
Finally, promoting entrepreneurship and innovation will also involve increasing the visibility of the DEI's and the Drahi-X Novation Center's activities among our students: we will be working on this as of the beginning of the 2021 academic year!
Back