Total to be the first R&I center implemented in innovation park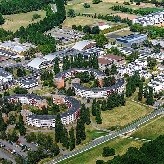 As part of the institution's strategic partnership with Total, École Polytechnique has approved the creation of a new center for innovation and research into carbon-free energy solutions.
This implementation lays the foundation for an innovation park bringing together private and public research centers, thus nourishing the ecosystem of Institut Polytechnique de Paris and more broadly the science and technology cluster of the Paris-Saclay region. The establishment of this center for Total is consistent with the actions revolving around an ambitious research and innovation program in decarbonized energy, which will involve researchers and academic partners. This decision, made following discussions with students, professors, and staff, seals a project in line with the School's ambitions in regard to energy transition.
École Polytechnique reaffirms its commitment to sustainable development and its determination to establish, together with its partners at Institut Polytechnique de Paris, a world-renowned research center, Energy for Climate (E4C), focused on energy transition and the fight against global warming. Industry and research actors will therefore be able to work closely together in order to reduce the time it takes to transfer innovation advances from laboratories to industrialists who benefit from the means to develop them on a larger scale.
"The establishment of Total's innovation and research center for decarbonized energy is a continuation of partnerships with large public and private companies that the School has been developing for many years. It is part of the School's strategy to assert itself as a major player in sustainable development. Its establishment is the first building block of the business and innovation park in partnership with EPA Paris-Saclay, which we are also developing within Institut Polytechnique de Paris," declares Eric Labaye, President of École Polytechnique and Institut polytechnique de Paris.
Through this center, Total aims to accelerate its research efforts in the field of decarbonized energy: renewables, batteries, carbon capture and storage, new mobility, intelligent energy management, etc.
The future Total innovation and research center will be located in the Paris-Saclay innovation park, a project led by EPA Paris-Saclay in conjunction with École Polytechnique, within the framework of a land protocol defined in 2012. This park will bring together several companies and promote interactions between public and private research, the employability pool for doctoral students, and the development of an ecosystem for innovation and start-up development.
Back