Tsinghua's Global Forum of University Presidents 2021: Focus on Universities' New Missions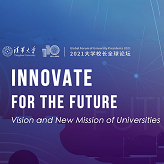 The conference brought together the leadership of over 110 universities across the globe to explore challenges and opportunities in line with international higher education in the 21st century. Structured in sessions, each dedicated to a specific mission, the conference revolved around a variety of topics aligned with the forum's overall theme: University as a Cultural Space: Looking Back into the Future (April 19th), Global Carbon Neutrality: Universities Responsibility and Action (April 21st), Rethinking the Future and New Mission of Online Education (April 22nd), and Global University Leadership (April 23rd).
The mitigation of climate change is one if not the most important and pressing challenge humanity is facing in the 21st century, and reducing greenhouse gas emissions is essential to fulfilling commitments to the Paris Agreement. Higher education institutions are critical actors as they can foster the transformation towards carbon neutrality in various ways, and the conference placed the topic "Global Carbon Neutrality: Universities Responsibility and Action" high on the agenda.

Invited by Tsinghua University, Eric Labaye, President of École Polytechnique and the Institut Polytechnique de Paris, participated as a keynote speaker in the forum's session on the subject and emphasized several axes on which universities can engage in particular:
Training responsible future leaders by integrating sustainable development in the curriculum of education programs to ensure students acquire an accurate understanding of the underlying facts of environmental challenges. Honoring its firm commitments to tackle climate change, École Polytechnique has introduced a mandatory seminar on Sustainable Development and established a Sustainable Development certificate, which students can complete across all programs. Moreover, l'X also offers specialized Master's of Science & Technology (MSc&T) programs in several Sustainable Development fields*.

Universities also play a crucial role in providing and accelerating sustainable solutions by engaging in research and innovation and advocating their implementation around the world. Interdisciplinarity being a key driver for innovation, the Institut Polytechnique de Paris created the research center Energy for Climate (E4C), dedicated to low carbon-carbon energies. Building on new insights research provides, many start-ups founded by École Polytechnique's alumni develop and promote innovative sustainable solutions.
Furthermore, École Polytechnique's commitment translates in a carbon neutrality plan for the school's campus. The school has set ambitious sustainability objectives for the campus, starting with a 30% reduction in carbon emissions by 2030 and moving toward carbon neutrality by 2050.
International partnerships to join efforts and scale up initiatives

Highlighting the importance of international alliances between universities to scale up initiatives, Eric Labaye also reiterated on École Polytechnique's long-standing partnership with Tsinghua University. For almost 20 years, the two institutions collaborate on both academic and research levels. Since 2018, they also offer a dual degree in Renewable Energy (Master STEEM). Furthermore, École Polytechnique and Tsinghua University join efforts within the Siebel Energy Institut, a global consortium for innovative and collaborative energy research, dedicated to advancing the science of smart energy, in which both universities take part.
Tsinghua Consensus 2021

As the missions of universities are evolving in order to continually tackle challenges such as climate change, the current public health crisis, and the transformation of educational models through new technologies, university presidents and participants of the forum pledged their shared commitment to foster openness, integration, and resilience in their higher education institutions. Concluding the conference on April 24th, they issued the "Tsinghua Consensus 2021", stressing that universities must undertake greater social responsibility by becoming:

More open to advance human knowledge, higher learning, and values that are compassionate, inclusive, and equitable;

More integrative to serve local and global communities by breaking through physical boundaries, disciplinary barriers, and technological limitations;

More resilient through innovative research for solutions to unprecedented global challenges and to thrive in globally chaotic environments.
*The Economics for Smart Cities and Climate Policy MSc&T program, the Energy Environment: Science Technology and Management (STEEM) MSc&T program, and the Environmental Engineering and Sustainability Management MSc&T program)
Back