Women entrepreneurship: 3 questions for Mariam Ezzedine, co-founder of Hiperssys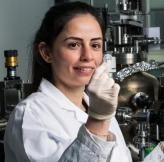 Mariam Ezzedine (on the right) and Fatme Jardali (on the left), co-founders of Hiperssys
How did the idea of Hiperssys come about?
This entrepreneurial project started while I was working on my doctoral thesis in the Laboratoire of Physics of Interfaces and Thin Films (LPICM* - NanoMade-3E team). Our research aims to create nanostructured electrodes by a bottom-up approach, directly on the current collector of the lithium-ion battery.
At first, the idea of building a lithium-ion battery with a new architecture and new active materials seemed unrealistic. At the end of my thesis, I managed to create the new electrodes and put them together in a button cell to obtain a primary lithium-ion battery. Even though the goal of having a rechargeable Li-ion battery was not met, I was happy with the results.
I continued to work there after my doctoral studies. In January 2018, I was hired in the same laboratory as a post-doctoral fellow on the same theme.
In 2019, I worked on the "Hiperssys" premature project (call for young doctor "premature" projects with SATT Paris-Saclay).
Today, we are two women researchers and co-founders of the future Hiperssys start-up, Fatme Jardali and I. Our goal is to fundamentally change the way we power our world by implementing a revolutionary lithium-ion battery technology, developing disruptive technology with great promise in energy storage. Our product will be the realization of a Li-ion battery composed of abundant, inexpensive and environmentally friendly materials. Our battery thus offers greater energy density, faster recharge and responds to the environmental challenges of tomorrow.
You won the Gerondeau-Safran prize in 2020, what are the next steps for Hiperssys?
Today, we are part of the "X-Novation" incubator at École Polytechnique and we are preparing a fundraiser. The start-up will be created by the end of the year.
Your challenges and tips as a woman entrepreneur in science?
It's not always easy to make a difference and make an impact on the world and especially when you are a woman. I would say that we have to persist until the ideas that we are passionate about see the light of day!
Women have made great contributions to science for a very long time. Despite this, in many cases women find themselves facing obstacles that minimize their successes. And these successes are often overlooked. For example, a woman's work is sometimes discredited. Women are not taken seriously ... You should not dismiss something just because a woman has said it or it's a woman who has written it.
So, I think it's important to be encouraged by both male and female mentors and to have equal access to research grants, to be able to join research projects and to collaborate with scientists from around the world. whole. Encouraging girls to get into science means encouraging them to do what they are passionate about from an early age. It means giving them the tools they need to be strong and resilient in the face of criticism and competition.
A word of advice to all: Be true to yourself! Go your own way.
*LPICM: a joint research unit CNRS, École Polytechnique - Institut Polytechnique de Paris
Back