X'Srael takes students on a trip to Israel's Tech scene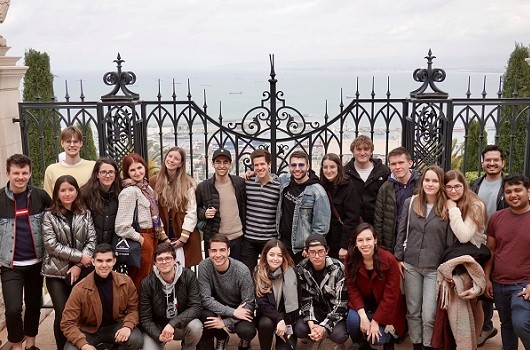 The Tech Trip participants at the Bahá'í Terraces near Haifa
Organized by the student association X'Srael, this year's Tech Trip invited École Polytechnique's students to discover Israel's dynamic start-up scene and the region's rich culture. Forty-two students participated in the journey, setting off to Israel from February 20 to 27, 2022.
Designed in the first place to enable École Polytechnique's students to discover the thriving technological environment and start-up scene in the Gush Dan metropolitan area around Tel Aviv, the Tech Trip took the participants on a visit to established companies such as IAI (Israel Aerospace Industries) and to successful Israeli start-ups Fintica AI and NanoDrop. The journey also provided the opportunity to discover the Weizmann Institute of Science, a world-class multidisciplinary research institution, with which École Polytechnique collaborates on several research projects, and the Israeli-based international 24-hour news and current affairs television channel i24NEWS. Moreover, the program allowed participants to explore the region from a cultural perspective and included visits to historical and cultural sites, tasting of culinary specialties, and bathing in the Dead Sea.
École Polytechnique's student association X'Srael organized the Tech Trip to offer students an opportunity to discover Israeli tech industry and the flourishing start-up scene in the region. Elsa Bismuth, a Bachelor student at l'X and member of the organizing team, explains that by means of the Tech Trip, "X'Srael invites École Polytechnique's students to discover not only the culture and history of the region, but also introduces them to the 'startup nation' Israel."
The forty-two participants of the one-week trip set off to Israel on February 20, 2022. The group included students from all of École Polytechnique's degree programs: Ingénieur Polytechnicien, Bachelor, and Master of Science & Technology (MSc&T) programs.
For Diana-Elizabeth Jimenez Bejarano, who studies in the School's MSc&T program 'Internet of Things: Innovation and Management', the trip represented a "valuable and enriching experience. The lectures were instructive and the landscapes magnificent", she reports enthusiastically. Diana-Elizabeth "particularly enjoyed the visits to i24News and Magen David Adom [Israel's National Emergency Pre-Hospital Medical and Blood Services Organization] as they allowed to gain a deeper understanding of these institutions, the technology they use, and the intrinsic purpose they work for."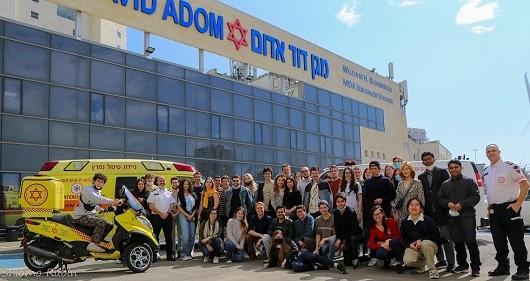 Considered one of today's most technologically influential cities in the world, Tel-Aviv is home to numerous startups in various fields and outposts from established international companies, which have been attracted by the "start-up nation" phenomenon. The part of start-ups in "deep tech" - technologies based on scientific and engineering breakthroughs – is considerable and increasing.
Participants had the opportunity to explore the region's buzzing environment and meet several start-up founders and CEOs. David Smadja, CEO of iSlit, was one of them. The deep tech start-up proposes ophthalmologists an assistant, augmented by AI, for slit lamp examinations to improve ophthalmic diagnosis. "David Smadja's conference was my favorite as the field of medical applications is a domain I am particularly interested in. It was very interesting to me to see how a very academic subject can actually be turned into a start-up", reports Tudor-Gabriel Mocioi, who studies in École Polytechnique's Bachelor of Science program.
The trip also included conferences on a wide range of topics. Amongst others, the participants met David Harari, who developed the first drones and was awarded the Israel Prize in 2011, and Professor Azaria Rein, head of pediatric cardiology at Hadassah Medical Center. Professor Rein spoke about "A Heart for Peace", an apolitical organization he co-founded in 2005. In partnership with Hadassah, a mixed team of Israeli and Palestinian cardiologists provide care and treatment for Palestinian children suffering from congenital heart diseases, free of charge. "Out of all the great conferences we attended during this Tech Trip, Prof. Rein's presentation of 'A heart for peace' impressed me the most. I am amazed by the doctor's work and commitment", explains Emeric Jammes, a student in École Polytechnique's Bachelor of Science program.
A friendly get-together with École Polytechnique alumni in Israel was also on the agenda. The event took place at the EDF Renewables Israel headquarters in Herzliya and brought together over 20 alumni of École Polytechnique living in Israel, from the X64 to X17 classes. Amongst them was David Levy (X08), the ambassador of École Polytechnique's alumni association (AX) in Israel and vice-president of the group X-Israel. The alumni and Tech Trip participants enjoyed this occasion to meet and exchange impressions of the journey, daily life in Israel and alumni's professional experience in the country.
Back