Chemistry at Polytechnique
Chemistry at Polytechnique
ARE YOU A BACHELOR'S, MASTER'S OR PHD STUDENT, OR A POST-DOCTORAL RESEARCHER?
INFORMATION SESSION FOR MASTERS AND PHD TRACK ON DECEMBER 14, 2023 AT 5PM - RECEIVE THE LINK
PHD TRACK APPLICATION DEADLINE - JANUARY 12, 2024
Master program - Chemistry and Interfaces
The program aims to
Provide students with high-level experimental and theoretical scientific training based on a broad spectrum of current research topics in chemistry.
Immerse students in a research laboratory environment to gain experience with new experimental techniques through a "learning by doing" approach.
Promote knowledge and understanding of chemistry through direct contact with researchers and current scientific issues.
PhD tracks - Integrated master and PhD - 5 years
This five-year program offers excellent research training to high-potential students seeking an international career in leading academic institutions or companies.
The PhD Track is a five-year program of excellence (bac+4 to bac+8), with a research focus, including a Master's degree with "à la carte" courses and research internships, followed by a PhD. You'll earn a Master's degree and a PhD.
The PhD track of the :
PhD Positions - 3 years
The Institut Polytechnique de Paris offers a doctoral program open to the best national and international students, enabling them to contribute to cutting-edge research.
Internationally recognized as a diploma of excellence and a marker of a very high level of expertise, the doctorate opens the door to highly qualified jobs in both the public and private sectors. In addition to access to the academic world, it opens up major long-term career opportunities, based on the specific skills attained during the doctorate and widely recognized in the socio-economic world for highly qualified jobs.
PhDs at the Institut Polytechnique de Paris
Faculty positions
Faculty positions for 2023/2024 will be posted in January 2024.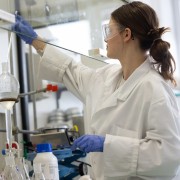 The master's degree at the Institut Polytechnique de Paris gave me much research experience, with many internships in laboratory work.