Chirped Pulse Amplification: 35 years later, still untapped potentials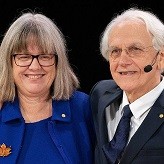 Crédit photo : Bengt Nyman - (CC BY 2.0)
Invented in 1985 by Donna Strickland and Gérard Mourou, the Chirped Pulse Amplification method (CPA) paved the way for ultra-intense lasers and revolutionized their uses, ranging from eye surgery to the particles physics.
Today, thousands of researchers around the world are using the CPA technique across a wide spectrum of applications. In addition, the prospects for future discoveries that this revolutionary invention could make possible are far from lacking, such as understanding the information paradox of black holes or the origin of magnetic fields in our universe.
A scientific and historical event
In 2018, Donna Strickland and Gérard Mourou were awarded the Nobel Prize in Physics for this major scientific achievement. Celebrated around the world, it is at École Polytechnique that they will commemorate the 35th anniversary of the CPA technique with the international community of high-powered lasers. On February 14, 2020, scientists, industrialists and students will come together for a conference titled "A Journey with Lasers and Physics at High Intensities".
Prestigious international experts such as Alexander Sergeev, President of the Russian Academy of Sciences, and Jie Zang, former Vice-President of the Chinese Academy of Sciences, will speak during this event and help discover, or rediscover, the impact of the CPA method, from research to industry examples. Several prominent speakers will present the new CPA applications and the advances that can be expected in the coming years.
Speakers who played a role in the careers and major scientific projects of the two Nobel Prize winners will share their stories about the extraordinary adventure related to the CPA technique, including in particular, the testimony of Imola Ratkay-Traub, the Hungarian ophthalmologist who carried out the first operations by laser.
This event is a unique opportunity to demonstrate France's recognition of this astounding invention, which still today allows our country to shine on an international level.
> To consult the event program: A Journey with Lasers and Physics at High Intensities
> To register for the conference (registration is free but mandatory)
Back