Covid-19 underlines China's footprint in global value chains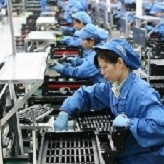 The Covid-19 pandemic which is still spreading worldwide has already had huge economic consequences. It has also highlighted China's growing footprint in global value chains.
Economists fom Institut Polytechnique de Paris (affiliated with Ecole Polytechnique and ENSAE) and Institut des Politiques Publiques have studied the impact of a production slowdown in the Chinese province if Hubei – where the Covid-19 epidemic originated – on global value chains, especially in France.
Reliance on Chinese inputs has dramatically increased since the early 2000s. As a consequence, most countries are exposed to the Chinese production slowdown, both directly through their imports of Chinese inputs and indirectly, through other inputs produced in Canada.
In their research paper, the economists from IP Paris and Institut des Politiques Publiques evaluate the total exposure of France to Chinese inputs compared to other countries. To do so, they start by computing share of Chinese value added in French production and then they quantify the impact of the Chinese quarantine measures on the French GDP, using multi-country sectoral data on trade in intermediate goods.
Production processes are increasingly spread across borders. Production within "Global Value Chains" allows firms to save on costs but renders value chains vulnerable to local supply shocks.
The research paper shows that in France 3.2% of firms' output is made of Chinese inputs, on average. In some sectors like textile or electrical equipment, the proportion exceeds 10%.
A 10% drop in Chinese production could therefore reduce French GDP by 0.3% through trade links only. The shock would be transmitted to the French economy through few large firms which produce out of foreign inputs.
Optimal policy responses to supply chain disruptions include providing liquidity to distressed firms in the short-run, according to the authors. More data on value chains at firm-level is needed to identify weaknesses in the French productive structure and better target subsidies in case of a future shock.
Measuring the fragility of value chains could require collecting more data on individual firms' vulnerabilities. In practice, that means asking firms to provide information on their most important suppliers and clients, which represent extremely sensitive data. Having a European-level dataset of firm-level input-output linkages would be a first step towards better identifying supply chain fragilities.
Building such statistics is necessary to provide targeted aid for firms in response to future shocks on value chains. Moreover, identifying such vulnerabilities will open the door to policies forcing companies to internalize the consequences of the lack of resilience of their value chain on the French economy.
Institut Polytechnique de Paris brings together five prestigious French engineering scholls – Ecole polytechnique, ENSAE, ENSTA, Télécom Paris, Télécom SudParis, around a common ambition : to create a world-class institute for cutting-edge research and training programs of excellence.
The Institut des Politiques Publiques (IPP), developed through a scientific partnership between the Paris School of Economics (PSE) and the Centre for Research in Economics and Statistics (CREST), aims at promoting quantitative analysis and evaluation of public policy using cutting-edge research,methods in economics.
Back