École Polytechnique reaffirms its link with the Armed Forces for Saint Barbara's Day
The Saint Barbara's Day ceremony, held on December 2nd, brought together the X20 and X21 classes and gave rise to a speech by the new Director General of École Polytechnique, Laura Chaubard.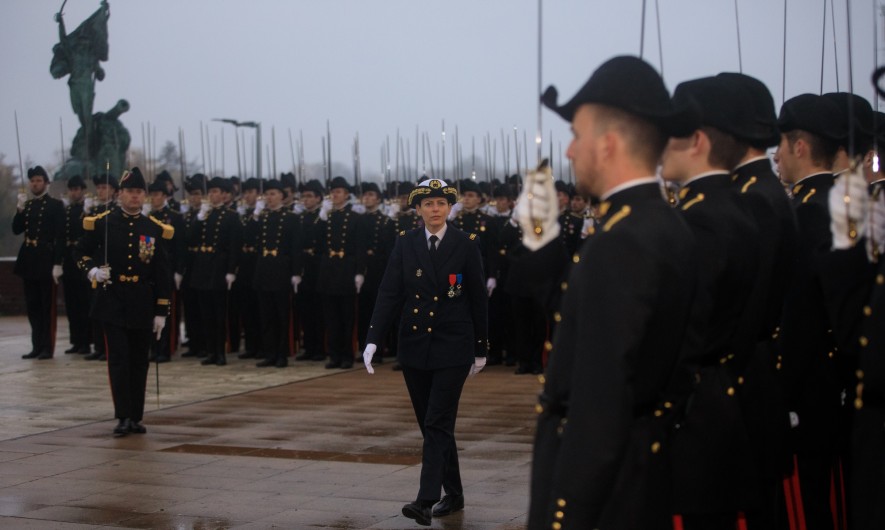 On December 2nd, the École Polytechnique celebrated Saint Barbara's Day, saint patron of learned weapons. The new Director General of the École, the Engineer General of Armaments, Laura Chaubard, addressed the X20 and X21 classes gathered in the École's courtyard of honor.
She called on them to draw on the tradition of excellence at École Polytechnique to meet the challenges of the times, and emphasized that Saint Barbara's Day was an opportunity to celebrate the link between the École Polytechnique and the Armed Forces, which oversee it.
"At Polytechnique, the tradition is to constantly seek excellence and to surpass oneself within a collective that transcends individualities and their particular interests," said Laura Chaubard.
"At Polytechnique, the tradition is to face up to the challenges of our time, with the curiosity and intellectual honesty proper to the scientific approach," she continued.
"At Polytechnique, the tradition is to serve one's country in an exemplary manner throughout one's life and regardless of one's career path," the director general recalled, pleading that Polytechnic men and women shape "the societies of tomorrow by seeking, regardless of the obstacles, to make them fairer, more respectful of all, and also more peaceful."
"These humanist and republican values, which have formed the backbone of each polytechnician for more than two centuries, resonate particularly well within our Armed Forces, among the men and women of the defense community," emphasized the Director General.
A month and a half after the visit to the X of the Minister of the Armed Forces, Sébastien Lecornu, who at the time insisted on the role of polytechnicians in guaranteeing France's sovereignty "in a world of competition, contestation and even confrontation," Laura Chaubard evoked "the constantly nourrished, reinvented link between the Polytechnic and the Armed Forces, which today has more meaning than ever."
"At a time when the democratic model and the scientific approach are both under attack, when unabashed ambitions for power lead to confrontations on all battlefields, whether economic, military, digital, or even energy; we need more than ever engineers who are aware of the issues of sovereignty and capable of moving society as a whole forward, with confidence and humility," underlined the director general.
"To look to the future, the École must also evolve, as it has always done in its history," she concluded.
Back