École Polytechnique Virtual Open Day on October 10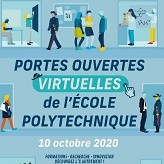 Driven by the success of the first edition, École Polytechnique hosts its second Open Day on October 10, 2020. In order to allow students and future candidates to discover the different programs offered at École Polytechnique, all academic program directors will participate in this year's virtual Open Day, interacting with high school students and their parents, and all other potential future candidates.
 
This virtual and fully interactive event targets both French and international audiences, and is offered in French and in English. This year's virtual Open Day strives to offer international participants the opportunity to follow the conferences and ask their questions live. Throughout the day, they have the opportunity to attend conferences, interspersed with short videos and testimonials.
The morning sessions feature two webinars for professionals on continuing education (Executive Master and Executive Education programs). Eric Labaye, President of École Polytechnique and of Institut Polytechnique de Paris, opens the afternoon session, followed by conferences on the academic programs offered at l'X (Ingénieur Polytechnicien program, Bachelor of Science program, and Masters of Science & Technology programs).
Participants will also discover the entrepreneurship options available, through the testimony of Nicolas Cruaud, Co-founder of Néolithe, a start-up incubated at l'X.
Finally, the academic and research programs offered by Institut Polytechnique de Paris will be highlighted with a presentation by Yves Laszlo, Provost of École Polytechnique and Chairman of the Academic and Research Committee of Institut Polytechnique de Paris.
Reserve your spot for this year's virtual Open Day!
For program details and to register (registration is mandatory): https://communication.polytechnique.fr/jpo/index.php?lang=en
Back