Focus on the Role of Universities in the 2030 Agenda for Sustainable Development at the Global University Presidents' Forum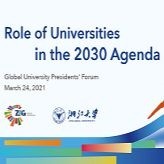 Which role can and shall universities play to move the 2030 Agenda forward? The forum provided the opportunity to exchange on universities' strategies and engagement in driving Sustainable Development across different continents, through three sessions: Educating for a Sustainable Future, Advancing Scientific Collaborations, and Creating a Greener Campus.
Universities partake significantly in the education of tomorrow's citizens and decision-makers. They have a unique and crucial role to play in fostering a sustainable future and preparing students to act responsibly throughout their life and career, joining the collective effort towards sustainability.
Invited by ZJU, an international partner of l'X since 2012, Eric Labaye, President of École Polytechnique and the Institut Polytechnique de Paris, participated as a keynote speaker in the session on "Educating for a Sustainable Future" and elaborated on École Polytechnique's commitment to the UN Sustainable Development Goals (SDGs) and the translation into concrete actions at the institutional level. Bearing account of the importance of Sustainable Development, l'X made firm commitments at its symposium "RefleXions" in 2019, involving its entire community for this common purpose. These commitments go hand in hand with initiatives working towards social diversity, gender equality, and equitable access to educational opportunities.
Beyond offering specialized Master's of Science & Technology (MSc&T) programs in several Sustainable Development fields*, l'X has introduced a mandatory Sustainable Development seminar to ensure all engineering students acquire an accurate understanding of environmental and societal challenges. Committed to conveying core values, knowledge, and skills, which are indispensable to shape a sustainable future, École Polytechnique is also implementing a certification designed to provide in-depth training on sustainability issues for all engineering students and a large part of the MSc&T programs.
Another demonstration of École Polytechnique's engagement in advancing the 2030 Agenda is the development of a plan to reach carbon neutrality on campus, with support from the interdisciplinary Energy4Climate (E4C) center. Created within the Institut Polytechnique de Paris, the E4C center rallies research professors, scientists, and students to develop solutions on energy transition. Furthermore, l'X regularly organizes student challenges, inciting students to create solutions for specific sustainability issues. Beyond teaching knowledge, it is crucial to stimulate students' aspirations and keep them actively engaged in creating sustainable solutions.
The growing number of successful start-ups offering sustainable solutions, created by the School's alumni, further illustrates this engagement from the École Polytechnique community, for example: Ilek, Reuniwatt, Luko, or Ynsect.
A Steady International Collaboration
École Polytechnique's international partnership with the Zheijing University (ZJU) dates back to 2012, when l'X welcomed the first students to its Ingénieur Polytechnicien program. The two institutions developed their academic cooperation and initiated a new double degree Master's program in 2016, alongside ENSTA Paris and Télécom Paris (Master in Innovation and Entrepreneurship). In 2018, l'X and ZJU signed another agreement to implement a joint double degree program in the fiel of Renewable Energies. Another result of this fruitful international collaboration is a double degree program with ZJU's school of mathematics.
The 2030 Agenda for Sustainable Development
Adopted by all United Nations member states in 2015, the 2030 Agenda for Sustainable Development formulates a shared global vision towards Sustainable Development in its three dimensions: economic, social and environmental. Far-reaching transformative steps are needed to shift our planet towards a sustainable future. The 2030 Agenda requires firm actions from all parties to achieve its 17 SD Goals. During ZJU's Forum, the University Presidents reaffirmed their commitment to the 2030 Agenda and to the following elements of a shared vision:
Imbedding sustainability across our activities, operations, monitoring, and evaluation. Through unwavering examples, we will foster and promote sustainable development on and off campus.
Enhancing competencies in SDGs by empowering our students, faculty, and staff with the knowledge, skills, and motivation to understand and address the SDGs.
Supporting a wider spectrum of research work needed to address global challenges, including blue-sky discovery and transdisciplinary research, and to better inform policy-making.
Fostering innovative solutions for sustainable development by engaging multiple stakeholders, including government, civil society, and the private sector.
Leveraging technology and upholding open science where appropriate to facilitate sustainable partnerships and context-specific, problem-solving collaborations across borders.
*The Economics for Smart Cities and Climate Policy MSc&T program, the Energy Environment: Science Technology and Management (STEEM) MSc&T program, and the Environmental Engineering and Sustainability Management MSc&T program
To watch the replay of the Forum
Back