Gérard Mourou elected to the prestigious Chinese Academy of Sciences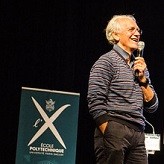 Distinguished by numerous awards and honors, Gérard Mourou was recently elected as a Foreign Member of the Chinese Academy of Sciences (CAS).
Winner of the 2018 Nobel Prize in Physics in October 2018 with Canadian Donna Strickland for having jointly developed a method for generating high-intensity, ultra-short optical pulses, Gérard Mourou has strong and longstanding ties with Chinese academic and scientific institutions.
In November 2019 and in the framework of a strategic cooperation agreement in Physics between Thales China, Peking University and École Polytechnique, several ambitious projects linked to professor Mourou's discoveries were launched under the patronage of of Chinese President Xi Jinping and French President Emmanuel Macron.
During a new trip to China by mid-January 2020, Gérard Mourou has taken part in multiple scientific conferences, held discussions with an array of young researchers working in China and had the opportunity to meet with the Premier of the People's Republic of China, Li Keqiang.
More recently, on January 1, 2020, Professor Mourou was distinguished by the National Order of the prestigious French Legion of Honour, moving up a degree to an "Officier" (Officer) distinction (previously "Chevalier" distinction since 2012).
Back