Healthcare data studied by a new sponsorship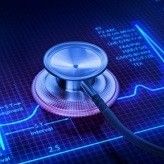 The "Numerical innovation and data science for healthcare" sponsorship program, inaugurated on November 13th by Sanofi, École polytechnique and its Foundation, seeks to deepen the methods used by AIs to analyse medical databases and test their applications. Its research will enable the creation of modelling and statistical learning tools to improve and personalise the patient's care through the healthcare system. It will thus be possible to develop algorithms to identify sub-groups of patients to adapt treatments.

Since its set up in December 2019, the sponsorship program has been jointly led by Étienne Minvielle, CNRS research director at the Centre de recherche en gestion, professor at École polytechnique and doctor at the Gustave Roussy centre, and Marc Lavielle, Inria research director at the Centre de mathématiques appliquées and professor at École polytechnique. The sponsorhip's courses complement several other courses, for example, several collective scientific projects will be offered to students in the 2nd year of the Polytechnic Engineering Cycle. The courses will cover a variety of subjects such as the application of data science techniques to healthcare or the modelling of biological phenomena such as epidemics, a very sensitive issue during the Covid-19 pandemic.

Inaugurated by Olivier Bogillot (President of Sanofi France), Yves Laszlo (Director of Teaching and Research at École Polytechnique) and Jean-Paul Cottet (General Delegate of the Fondation de l'X), this sponsorship combines the excellence of two X research centres with the cutting-edge knowledge of its sponsor.

Bringing together leading players from the worlds of data science and health, the research and teachings of the "Numerical innovation and data science for healthcare" sponsorship program, with the vision of its sponsor Sanofi, present on the international healthcare scene, is at the service of all by improving the health of patients and developing the use of AI in this field.
Back