Labs and Research: Ensuring Continuity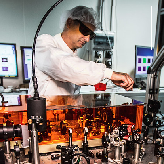 Following the instructions from the French Ministry of Higher Education, Research and Innovation, laboratory activities (including that of doctoral students) are maintained as follows:
Physical presence is forbidden in labs on school premises, regardless of the employer of the personnel in question.
 The presence of external personnel is strictly limited to essential services. In particular, physical seminars and face-to-face conferences are cancelled until further notice.
Working from home (working remotely) is the new norm, especially for all activities of a non-experimental nature.
All experimental laboratory work should to be put on stand-by unless the continuity of these particular lab activities is absolutely required.
Meetings must be virtual, PhD thesis defenses are postponed. 
All missions in France and abroad are suspended until further notice as well as the delegations for signing mission orders from the various departments affiliated with the Academic and Research Department. In case of absolute necessity, exceptions may be granted by the school's Provost.
In accordance with these principles, the only activities for which face-to-face work can be maintained are the following:
Activities that fall under the Business Continuity Plans (BCPs).
The internal activity of certain research laboratories, when the interruption of manipulations would lead to the loss of essential, sensitive, or particularly complex or cumbersome scientific studies if asked to reorganize them at a later time.  
Our priority is to ensure business continuity in strict compliance with health and safety instructions in order to best prepare for the return to normal activity once the pandemic has been overcome.
Back