« Les Minutes de l'X », webinars to help shape the post-COVID-19 crisis world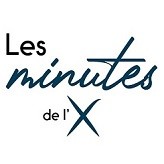 The health crisis that we are experiencing affects everyone of us in our relationship to 

the broader community, to our family and relatives, to our privacy and to the 

organization of our work and leisure activities. It raises questions about our 

relationship with the world and invites us to imagine what the post-crisis might be like.

In order to contribute to these debates, École Polytechnique, via its Executive 

Education, has just launched regular webinars, "Les Minutes de l'X", to offer 

stakeholders of the economy, and society in general, one-hour discussions 

with L'X professors and researchers in order to rethink the post-crisis world. 

You will find below the next four sessions schedule and links to register:
* Isabelle Méjean, professor in the Economics Department at L'X. CGlobal value chains and resilience to external shocks. June 11th at 1:00 pm. Register.
* Michaël Foessel, professor at L'X and Director of the Humanities and Social sciences Department. The lockdown, testing our privacy. Le confinement, une mise à l'épreuve de l'intime. June 16th at 5:00 pm  Register.
* Nicolas Mottis, professor in the Innovation Management and Entrepreneurship Department. How responsible investment could help to solve the current crisis ? June 25th at 1:00 pm. Register.

*Antigoni Alexandrou, CNRS Research Director at the Ecole polytechnique-CNRS

-INSERM Laboratory for Optics and Biosciences. Ultra-sensitive detection 

of biomarkers and pathogens. June 30th at 5:00 pm. Register .

To listen to previous sessions:
*Erwan le Pennec, professor in the applied mathematics department at L'X. The leading role played by artificial intelligence and data in the digital transformation of enterprises and private or public organizations.
*Olivier Gossner, head of the Economics Department at L'X. The contributions of the economic sciences to lockdown exit strategies and how to implement an efficient exit strategy respecting the threefold principle of "protect, test, isolate".
*Philippe Drobinski, professor at L'X and Director of the Energy and Climate Center (E4C) of the Institut Polytechnique de Paris. What the Covid-19 crisis says about climate change.
*Abdul Barakat, professor at L'X and Research Director at the school's Hydrodynamic Research Laboratory. Biomedical research in order to offer a better understanding of vascular diseases and thus enable more efficient treatment.
*Sylvie Méléard, professor at L'X and head of the "Modelling for the evolution of living beings" team in the Applied Mathematics Center.  How mathematical modelling helps us understand an epidemic ?
Back