L'X takes part in a transatlantic dialogue on changing work environments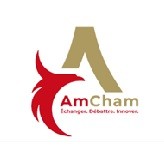 The American Chamber of Commerce in France (AmCham*) invited the leaders of four prestigious higher education institutions from both the US and France to exchange their views on pressing questions linked to the Future of work, such as how universities can train students for changing work environments: Eric Labaye, President of École Polytechnique and President of Institut Polytechnique de Paris, Vincenzo Esposito Vinzi, Dean and President of ESSEC Business School, Isabelle Bajeux-Besnainou, Dean of the Tepper School of Business at Carnegie Mellon University and Soulaymane Kachani, Vice-Provost of Columbia University, met for a round table discussion on May 26, 2021 and helped to better understand how to take up these challenges on both sides of the Atlantic
Innovation and digitalization bring about significant changes in professional life, entail new ways of working, and require additional skills. This evolution also challenges Higher Education as it has to reflect these changes to best train students for their future professional careers. Isabelle Bajeux-Besnainou, Dean of the Tepper School of Business at Carnegie Mellon University, pointed out that a higher education institution's learning environment must mirror the future workplace to prepare students for employment adequately. Combining digital learning and on-campus experience allows students to acquire the necessary skills to navigate and work in these environments.
As the digital transformation, the energy transition, and resource optimization disrupt many sectors, and as public decision-making evolves, graduates must be well aware of these trends to work in today's new environments. Students will not only have to navigate and perform in digital and blended work environments, but they also need to be well-versed in several major topics, which become increasingly important, explained Eric Labaye. Referring to a recent report released by the World Economic Forum on the Future of Jobs, he also highlighted several core skills, which will particularly be required: creativity, critical thinking, problem-solving and analytical skills.
Emphasizing that Higher Education institutions have to adjust their training programs to reflect the evolving job requirements, Eric Labaye explained that École Polytechnique has adapted its programs to ensure that students deepen their digital competencies, acquire skills to solve complex problems and understand the implications of the energy transition.
Another subject addressed during the round table discussion was the impact of digitalization on the way higher education is delivered. Soulaymane Kachani, Vice-Provost of Columbia University, reminded that universities introduced online courses to share knowledge with a broader community and enhance teaching and learning on campus. Digital technologies offer various uses for degree programs and enhance the possibility of providing tailored programs for life-long learning.
As the job markets evolve, the workforce will need reskilling or upskilling to meet future job requirements. Students' connection with the university does not end with graduation, and Higher education institutions focus on accompanying their graduates throughout their professional careers and providing a life-long learning experience. Growing demand for short courses and executive education programs illustrate this trend towards professional education and lifelong learning, which can be augmented and accelerated thanks to digital technologies.
Moderating the discussion, Christopher Kramme, Vice-President AmCham France, referred to a recent white paper on the Future of Work released by AmCham France, which also addresses the topic of soft skills, such as adaptability and the commitment to ethics and values.
Exploring how higher education institutions can help students to develop soft skills, in addition to technical skills, Eric Labaye emphasized the importance of making students understand the crucial role values and certain human qualities play for succeeding, inspiring others, and making society progress. Having impact does not only require intelligence and technical knowledge but also certain human qualities, the so-called soft skills.
École Polytechnique has always placed students in a situation of responsibility, which immersed them in society - historically in the frame of military training, today expanded to social work. Internships, in companies and research also enable students to develop soft skills as they incite them to adapt to different ways of working. International exposure is another important aspect l'X fosters, as multicultural experiences are critical to broaden mindsets and understand today's world. But Higher Education also has to encourage creativity, entrepreneurial spirit and promote teamwork to enable students to become an actor of society. 
* AmCham France is an association of companies and business executives committed to the transatlantic relation, of which École Polytechnique is a long-standing member.
Back