L'X wins the SWERC programming contest and qualifies for the world finals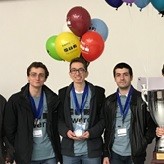 École Polytechnique has won for the first time ever the SWERC (SouthWestern Europe Regional Contest) programming competition, which took place on January 25 and 26. One of its three competing teams out of 98 thus got a gold medal and qualified for the world finals which will take place in June in Moscow. An other team ranked fourth and won a silver medal while a third team ended up in twentieth position.
It is also the first time that École polytechnique wins a gold and a silver medal at the same time during this prestigious contest organized by the Association for Computing Machinery to select the best programming students internationally. The International Collegiate Programming Contest (ICPC) world finals will take place in June 21-26 in Moscow.
The silver-medalled team achieved a score good enough to enable its members to qualify for the world finals but the ICPC rules state that a participating institution can only align one single team for the finals.
This year, 9 students from l'X were involved in the Southwestern Europe Regional Contest, 6 from the engineering cycle and 3 from the bachelor cycle. Overal 98 teams took part in the contest coming from 51 institutions from 6 southwestern Europe countries: France, Switzerland, Spain, Italy, Portugal and Israel.
The 2019-2020 SWERC edition has been organized by Télécom Paris, which is part of Institut Polytechnique de Paris alongside with École polytechnique, ENSTA Paris, ENSAE Paris and Télécom Sud Paris.
L'X's SWERC teams:
Team EP Chopper (1st, Gold Medal) : Louis Abraham, Khanh Nguyen, and Thanh Vinh Nguyen
Team EP Rouje (4th, Silver Medal) : François Sellier, Thomas Sepulchre, and Alexandre Thiault
Team EP Zero (20th) : Matheus Cariús Castro, Minh Tuan Nguyen, and Arnaud Robin
Back