Maxime Grangereau, 2020 Siebel Scholars winner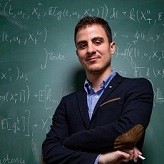 Maxime Grangereau is an alumnus of the X2012 Class at École Polytechnique and is currently pursuing his PhD in collaboration with EDF and the Center for Applied Mathematics at École Polytechnique. He was officially named one of the recipients of the 2020 Siebel Scholars award at a ceremony held on January 16, 2020 in the presence of Eric Labaye, President of École Polytechnique, and Yves Laszlo, Provost of École Polytechnique. Maxime's research focuses on the optimization of power grid management in the context of renewable energy integration.
When he joined École Polytechnique in 2012, Maxime developed a true interest for applied mathematics. After carrying out a double degree at the Technical University of Munich (TUM) where he acquired the necessary skills in operational research and optimization, he discovered during a research internship at the CMAP, the application field in which he is now specialized: Energy. He is currently carrying out his thesis and is supervised by Wim van Ackooij, researcher at EDF, Emmanuel Gobet, Professor at École Polytechnique, and Stéphane Gaubert, INRIA (National Institute for Research in Digital Science and Technology) Research Director in charge of the INRIA-CMAP "Tropical" project team.
Maxime's thesis focuses on the "Control of energy flexibilities in stochastic context", meaning the development of methods and tools to optimize the control of different levers of electricity networks, such as energy storage, demand response for businesses (for example, a temporary reduction in consumption over an hourly period) or the modulation of the charging speed of an electric vehicle. The goal is to match electricity supply and demand across the grid and at all times, in a context of high uncertainty induced by renewable energy sources (solar and wind power). Intermittent and decentralized, these energy sources make the balance between supply and demand more complex to maintain, as their amount of production is difficult to predict accurately. The goal of Maxime's work is to develop algorithms to reduce the impact of the uncertainty of production and consumption on the network in this environment.
"I am honored to receive this award from the Siebel Foundation. This helps to give visibility to my work, and opens up new perspectives for my future career. It will allow me to attend high-level conferences on modern issues, which corresponds to my desire to work in the industry in order to solve concrete problems for energy companies", Maxime explains.
Back