Seven start-ups created by l'X alumni winners of the i-Lab 2020 contest i-Lab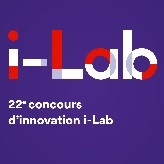 Six start-ups created by alumni of l'X were awarded during the 22nd edition of i-Lab, one of which, Alice & Bob, was among the 10 Grands Prix winners in the largest Deep Tech innovation competition in France.
Created by Théau Peronnin (X2012), Alice & Bob's ambition is to develop within 5 years an error-free universal quantum computer and to bring to market its exponential computing power. Such a machine would be capable of running any algorithm, like any conventional processor, but above all in a 100% quantum manner, without decoherence, that is to say without error resulting from transition from quantum state to classic state. The company exploits the unique self-correcting quantum bits technology, proven in the experimental physics theses of its founders. The start-up completed a fund raising round of 3 million euros in May 2020.




Three other start-ups launched by X alumni and winners of the i-Lab 

contest also belong to the digital, software and communications 

technologies category.  Veesion, launched by Benoît Koenig 

(Master of Science, Data Science 2016-2017)  is developing a gesture 

recognition technology in video content to automatically  detect in 

real time acts of theft that may occur in a point of sale. It targets 

the retail, pharmaceutical, cosmetics, clothing and electronics sectors.

In SportsDynamics, Vincent Bacot (X2009) offers a new type of 

analysis of sports performance based on movement dynamics, 

intended for professional sports clubs and media. The sports 

data analysis market, or Sports Analytics, focuses on physiological 

data and on statistical events linked to specific and past facts 

(number of successful passes by a football midfielder or number 

of shots on target during a meeting by the attacker of the same team). But the 

dynamics of coordinated movements of players on a sports field, which are at 

the heart of the game, are completely ignored. Based on a new methodology, 

protected by a patent, the SportsDynamics platform does take them into account.



The Studio for All project, led by Matthieu Rouiff (X-Stanford 2005) 

aims to develop artificial intelligence based on deep learning to offer 

the first embedded photo studio. The tool, accessible to all, will allow 

users to manipulate objects and perform touch-ups instantly. 

PhotoRoom already enable users to create studio-quality photos 

from their smartphone in a matter of seconds. Thanks to the ease 

of use and the power of the software, the results of changes made by the user are 

immediate. Ultimately, these features will also be available for videos or animations.




In the medicaltech category, Neurofirst Medical, created by Anne 

Osdoit (Master of Science 200-2003) designs and develops an 

innovative medical device, called "Gradient", allowing to treat, 

in a minimally invasive way, pulmonary hypertension (HP). It is 

a severe and extremely serious condition, which progresses very 

quickly with an average survival of two to three years after diagnosis. 

Neurofirst is developing a completely innovative approach for the treatment of this 

pathology, based on the denervation of the pulmonary artery. MD Start III, Sofinnova's 

medtech acceleration fund, invested € 3.5 million in seed capital in Gradient Denervation 

Technologies in February 2020.
InBolt, launched in mid-2019 by Rudy Cohen, Albane Dersy and Louis Dumas, students of the X-HEC Entrepreneurs Master's Program, is developing a technology to track the position of industrial tools such as torque wrenches, screwdrivers and drills. InBolt's technology relies on a hardware module made of sensors that, once fixed on the tool, communicate with quality control software to create an interface for the operator and an interface for the manager. By tracking the tool's position in real time, it is possible to confirm if a task has been completed correctly or not. InBolt put together its first prototypes in the Drahi-X-Novation Center FabLab and has attracted interest from manufacturing groups such as Safran, SKF and Faurecia. InBolt is winner of Jean-Louis Gerondeau-Safran award 2019 and named by Challenge magazine as one of the 100 start-ups to invest in for 2020.
Created by Sarah Lamaison (X2012) TheGreenFuelCompany, GFCo, offers profitable solutions to reduce CO2 emissions for polluting industries. The start-up is developing electrocatalysis and thermocatalysis technologies to convert CO2 into chemicals of interest that can be sold or reused on site. The target market is the main CO2 emitting industries ie steel, cement and chemicals which account together for 11% of global CO2 emissions.
Sponsored by the Ministry of Higher Education, Research and Innovation to support the creation of innovative companies, i-Lab has enabled the creation of 2,081 companies since its launch in 1999. Despite Covid-19 health crisis, the 2020 edition drew some 424 applications.
Organized in partnership with Bpifrance Financement and La Tribune, i-Lab supports the best business creation projects with a strong technological component with significant financial assistance of up to 600,000 euros and an appropriate support. The 10 Grand Prizes, awarded to laureates who fall under one of the ten major societal challenges identified by i-Lab, also benefit from a sponsor to support them in the development of their project.
Back