XProjects gets into space to showcase its ability to work on large-scale, high-tech missions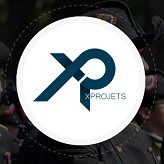 On the occasion of the 40th anniversary of its creation, XProjets, the École Polytechnique junior enterprise, mobilized around a federative and ambitious project to demonstrate its capacity to intervene on large-scale missions with a high technological impact.
SpaceXProjets aimed to take up the technical challenge of sending into space a bicorn hat, an icononic symbol of the Polytechnicians uniform, by building and propelling a balloon able to reach the stratosphere.
The flight, which lasted more than two hours, was successfully completed on September 19th and was video recorded.
https://www.youtube.com/watch?v=j1sq-sBB8hw
"This operation demonstrates our technical capacity, our agility and our rigor in the conduct of our projects," said Philippe Nugnes, XProjets' communication manager.
"The project, articulated in several phases - prospecting, development, execution - also illustrates the ability of XProjets to carry out large-scale projects," added Paul Theron, XProjets' treasurer and project manager.
With 40 studies completed, XProjets has continued its development in 2021, capitalizing on the confidence inspired by the scientific rigor, the pursuit of excellence and the agility of its stakeholders.
Back