Sport plays an essential role in students' education at the École Polytechnique. There are 16 sporting activities on offer at the campus by the CXS (the X Sport Club), with facilities both on and off the site.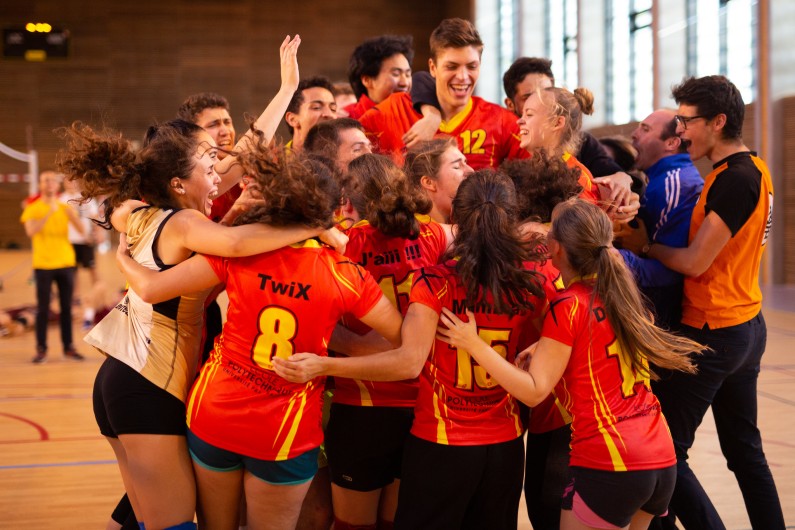 Good for both health and well-being, all students on the engineering program are required to practice sport. Four to six hours a week are dedicated to a physical and sporting activity during the students' education.
Almost 45 full- and part-time professors teach the various sports disciplines. These teachers, from the Defense or civilian world, are recruited based on their experience, level of participation in the sport considered and their ability to manage teams.
The sports culture at the École Polytechnique involves learning how to manage and lead a team, working ethically and respecting rules in the different disciplines taught.
Masters and doctoral students can also benefit from sports lessons by enrolling on the slots proposed according to their level.
The campus sports facilities are open to all students and staffat the École Polytechnique.
Quality sports infrastructures
The campus has many indoor and outdoor facilities, managed by the Sports Training Office which coordinates for the whole campus the allocation of these structures based on the needs of the different sports people.
Covered facilities
1 water sports area with two 25-meter pools and bleachers to seat 400 people
2 covered tennis courts
1 multi-sports room (volleyball, handball, basketball) 
2 multi-purpose rooms (basket, badminton) 
1 climbing wall and rock climbing room
1 dojo room
1 armory, equipped with 11 fencing pistes with electrical equipment
1 fitness room with a cardio training area
1 compressed air shooting range
Outdoor facilities
1 riding center with around thirty horses
2 football pitches, including a first-team pitch with bleachers
3 rugby pitches
6 outdoor tennis courts
1 semi-artificial lake (rowing and canoing)
1 golf driving range (16 covered posts)
a 400-meter running track
1 multi-sports court (handball, basketball)
1 city-stadium 
A variety of disciplines
The sports taught and practiced :
Team sports
Football
Rugby 
Volleyball
Handball
Basketball
Individual sports
Trekking/Orienteering
Rowing
Tennis
Climbing
Cross-training 
Swimming
Kick-boxing
Judo
Horse riding
Fencing
Badminton
Other off-campus activities

Competitions
University competitions
All the disciplines offered at the École Polytechnique are university disciplines and some of them are associated with Military championships. Therefore, students participate in various university championship which starts in November and ends between the months of March and May.
Other competitions 
The Sports Training Office of École Polytechnique organizes several internal events on the campus and participate in the La Défense grandes écoles tournament. It also helps students within their associations to organize university competitions (within Ile de France) and other national and international competitions.
 
Contact
CDT Marc MANDER - Sports Training Office