Companies go for l'X's first MSc&T graduates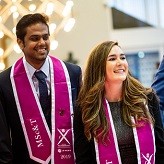 École Polytechnique unveils the results of the first First Job survey of its Master of Science and Technology program, whose first class graduated at the end of 2018. This degree, launched in September 2016, delivers a multidisciplinary scientific education, entirely taught in English, and industry-oriented. It is a real success according to this first employment survey.
Indeed, five months after graduation, most of MSc&T alumni joined a company. The others 14% of graduates are completing a PhD, 4% are engaged in further studies (outside PhD), 6% have created a start-up and 8% are involved in a personal project, volunteering or job-seeking.
Company employees : 68% of the graduating class
Among company employees, 60% were recruited before graduation and all are employed within six months after graduation. Industry is the primary recruiting sector with 73% of company employees, followed by banking, insurance and financial institutions (15%), consulting (9%) and the civil service (3%). Graduates in the corporate sector mainly work in Europe and join large companies with more than 5,000 employees (53%).

Their average gross annual salary, including bonuses, is €54,000 and it is up to €70,000 for young graduates employed internationally.
PhD focused on the corporate sector
The industry-oriented specificity of the Master of Science and Technology program also reflects in the doctoral programs pursued by graduates. 28% of them carry out their doctorate in connection with a company as part of a Cifre, a scheme encouraging partnership between academic and business worlds. Nearly 60% pursue their doctorate in applied fields such as energy or environment and 57% are engaged in additional activities such as teaching, consulting or intellectual property.
Their overall average annual gross income is €38,400.
Entrepreneurs graduates
6% of the class has created a business, 67% of which abroad. The start-ups created represent sectors with high stakes: environment, water treatment, waste and recycling; food production; and software and IT services.

Methodology :
Survey carried out from April to October 2019 on the 2018 graduating class of the Master of Science and Technology program.
Back