Executive Master : A week at the very heart of European aeronautics and aerospace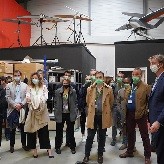 The 36 participants of the Executive Master's class of 2020/2021 were welcomed to the ISAE-SUPAERO campus in Toulouse from April 13 to 16 to confront the challenges of the aeronautics and aerospace sectors.
As part of this module, participants were able to attend lectures, visit laboratories and interact directly with world-renowned researchers in the fields of aeronautics and aerospace.
On the agensa : conferences on current and potential applications of drones, the New Space, climate impacts related to air transport, neuroergonomics in aviation.
Alongside the theoretical courses, participants visited laboratories (flight simulators, drone development, etc.) and were able to meet the heads of startups in the sector, such as Delair, which specializes in the development of drones for equipment maintenance and monitoring, or Hinfact, on human factors analysis and pilot training.
Launched in 2017, L'X's Executive Master aims to train executives with approximately 20 years of professional experience in the fields of innovation and technology each year. With 80% of the courses taught by X research professors, it has continued to grow with the maximum number of 36 participants reached for the start of the 2020 academic year.
ISAE-SUPAERO: World leader in higher education in the field of aerospace engineering, ISAE-SUPAERO is developing a research policy that is largely geared towards the future needs of the aerospace and high-tech industries.
Back