Vaccines, innovation and l'X ecosystem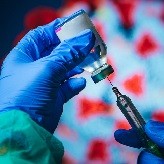 Long a boring cash-cow for a pharmaceutical industry in search of highly profitable blockbusters, vaccines experienced a spectacular return to favour with the Covid-19 pandemic. The speed of development of VOC-2 SARS vaccines has been astonishing, with the first products becoming available less than a year after the identification of the virus, when it typically takes about 10 years to develop and get a new vaccine licensed by health authorities. A performance that owes much to international scientific cooperation and the massive funding allocated to research, particularly in the United States, but it's also the result of a technological breakthrough. The first two Covid-19 vaccines to have successfully passed clinical trials (those of Pfizer/BioNTech and Moderna) are based on Messenger RNA technology developed over several decades, but never before tested on human beings.
Without necessarily resorting to this innovative technology, two start-ups from the X ecosystem or founded by former polytechnicians testify of this vaccine revival.
Altevax : Synthesizing melanin to boost the immune system
Altevax has developed an immunotherapy treatment based on a patent filed by Professor Antoine Carpentier of the Saint-Louis Hospital (Paris) on the power of melanin to boost the efficacy of peptides and trigger a strong immune response from cytotoxic T cells. In late 2016, Antoine Carpentier joined forces with Victor Vadaneaux (class of 83), a fellow specialist in biotechnology and business management, to launch Altevax. The start-up tested its vaccine therapy on animal models and successfully synthesized the production of melanin, which occurs naturally in humans, and scaled up the manufacturing. As its immunological technology applies to cancers and infectious diseases, Altevax is preparing for the first stage of clinical trials, focusing on the treatment of glioblastomas, the most frequent malignant brain tumors in adults, as well as Covid-19.
Osivax : the holy grail of the universal vaccine
While the issue of the Sars Cov 2 mutation has raised questions about the efficacy of vaccines developed to counter it, Osivax has devised an anti-Covid vaccine that does not use as an antigen the S protein, which is highly exposed to mutations like all current vaccines, but the protein of the nucleocapsid (N) inside the virus, which is much more stable. Protein N is not involved in the infection of cells and therefore does not raise antibodies. For its project, the Lyon-based company, founded in 2017 by Alexandre Le Vert (X99), former CEO of the leptospirosis vaccination specialist Imaxio, received €15.1 million in funding from the French public investment bank, Banque Public d'Investissement (BPI). The company plans to enter clinical trials in early 2022 in collaboration with AP-HP, which will pilot the trial. Osivax was already working on a universal influenza vaccine.
Back