X Cup 2021 : A clear victory for Ecole Polytechnique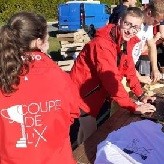 The 2021 edition of the X Cup brought together 2,365 athletes from 19 engineering and business schools in the Paris region, where each participant defended his or her colors in the 18 disciplines offered in 24 men's and women's sports events.
Organized by the Ecole Polytechnique Sports Association, the X Cuo is a sports event bringing  together students from various Grandes Ecoles in the Paris region through numerous events in a wide range of disciplines.
Ecole Polytechnique won a clear victory obtaining 41 marks, eight more than Centrale Supelec, winner in the 2019 edition.
L'X distinguished itself in athletics, women's rowing, badminton, men's basketball, crossfit, climbing, women's soccer, men's handball, swimming, men's rugby and men's volleyball, all disciplines in which the School took first place.
In addition to the sports competition, the students also took part in the "Color Run" challenge organized by Vinci Energies, a commitment to solidarity for the benefit of heart surgery.
Throughout the day, the participating schools were able to take part in a number of activities organized by the sponsors and the various students associations in the welcome village.


After a day of competition, the closing ceremony began with a pompom show, followed by the awarding of prizes by Thibault Capdeville, Chief of Staff of the École polytechnique, ending with a colorful final touch with a Lunart'X show, an animation of fire and light carried by four artists playing with fireworks and LEDs.
Back